UofG Brexit conversations held
Published: 22 November 2016
The prospect of Brexit remains firmly in the UofG focus. News of two staff/student conversations held last week...
‌Staff and students from across the university attended the second open forum on the implications of the referendum vote for Britain to leave the European Union on Friday 18 November.
A panel comprising of the Principal and Vice-Chancellor Professor Anton Muscatelli; the President of the SRC Ameer Ibrahim; Christine Barr, Director of HR; Professor James Conroy, Vice-Principal for Internationalisation; Professor Miles Padgett, Vice-Principal for Research; Rachel Sandison, Director of MaRIO and Joe Galloway, Contracts Manager took questions on issues ranging from research funding and collaboration post Brexit, to fees for EU students up to and after withdrawal from the European Union, and impact – if any – Brexit might have on plans for campus development.
The Principal made clear his view that whilst substantial clarification was required from the UK Government on what Brexit will ultimately mean, the university was doing all that it could to ensure the views of staff and students heard at the very highest levels. Rachel Sandison, Director of MaRIO also reiterated that Glasgow was proudly supportive of the Universities UK initiative #weareinternational in demonstrating how open, welcoming and collaborative Glasgow is and how important links both with the UK and the wider world are to the university.
Further open events for staff and students on the implications of the referendum vote will be held in the New Year.
More information on Brexit and what it might mean is available on the University of Glasgow EU web pages.
Brexit - The Conversation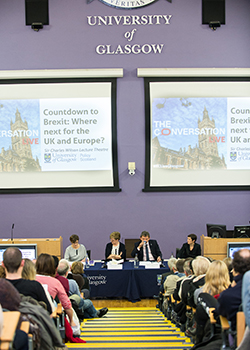 Also taking place on Friday 18 November was a major public engagement debate in a packed Sir Wilson Lecture theatre on 'Countdown to Brexit: Where next for the UK and Europe'. The evening event was run in collaboration with the online site The Conversation and Policy Scotland. Though London based, The Conversation chose the University of Glasgow for this, their first ever, public debate.
The Question Times style discussion was chaired by former BBC and Reuters journalist Dr James Rodgers with a panel comprising of the Principal Professor Anton Muscatelli; Dr Uta Staiger Executive Director of the European Institute at University College London; Maria Fletcher, Director of the Scottish Universities Legal Network on Europe; and the Principal of Edinburgh Napier University and Convener of Universities Scotland, Professor Andrea Nolan.
During the event the Principal reiterated that the voice of experts must be heard in the ongoing Brexit debate – and cautioned against the trend for disregarding academic opinion in political rhetoric, in the aftermath of the U.S presidential election.
The UK Editor of the Conversation, Stephen Khan said, "We were thrilled that the first Conversation Live event took place at the University of Glasgow. At this time of great global change, we believe the knowledge that lies the heart of our Higher Education institutions is of great value to the general public.

"The Conversation exists to channel such expertise, to enrich debate and enhance understanding, thereby practically benefiting individuals and society as a whole. These are Enlightenment values and there can be no better place to engage with them than at the University of Glasgow."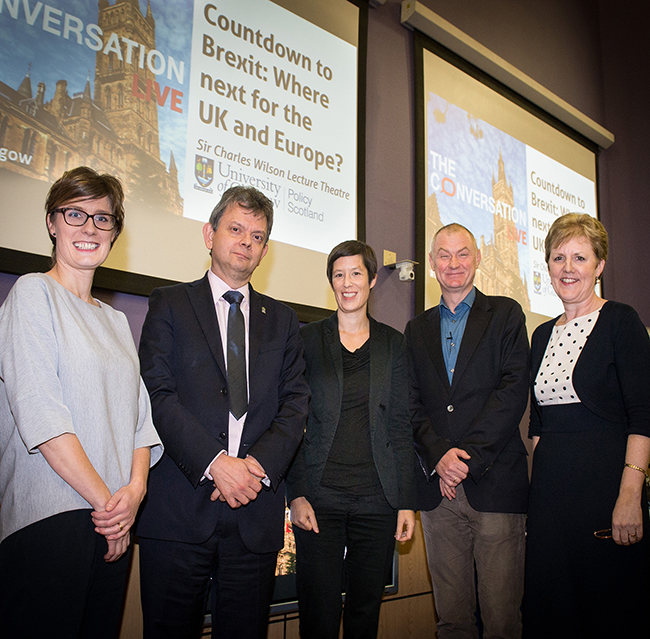 ---
First published: 22 November 2016