Barça: Sports, Values and Identity - 23 Nov
Published: 14 November 2016
Barça: Sports, Values and Identity - FC Barcelona joins the University of Glasgow for a conversation on Sports and Culture. NOW SOLD OUT!
Title: Barça: Sports, Values and Identity
Date: Wednesday 23 November - 10 am
Venue: The Senate Room, University of Glasgow
(THIS EVENT IS NOW FULLY SUBSCRIBED)
To mark the occasion of FC Barcelona's Champions League match against Celtic FC on Wednesday 23 November, the School of Modern Languages and Cultures, in collaboration with the Institut Ramon Llull and FC Barcelona, is hosting a debate involving University Staff and Students, as well as the general public.
Barça: Sports, Values and Identity is the title of the panel discussion, as part of the international FC Barcelona "Sport meets culture" Programme, whose aim is to promote the importance of sport in forming a national identity, specifically the role of Barça in the construction of Catalan identity. The discussion more broadly will cover the ways in which sport increasingly crosses cultural and political boundaries in a way that few other activities can.
Panel: Round table discussion involving FCB Board Member, Professor Raymond Boyle, Professor of Communications (Theatre, Film and Television Studies) and David Leask (Chief Reporter, The Herald).
Links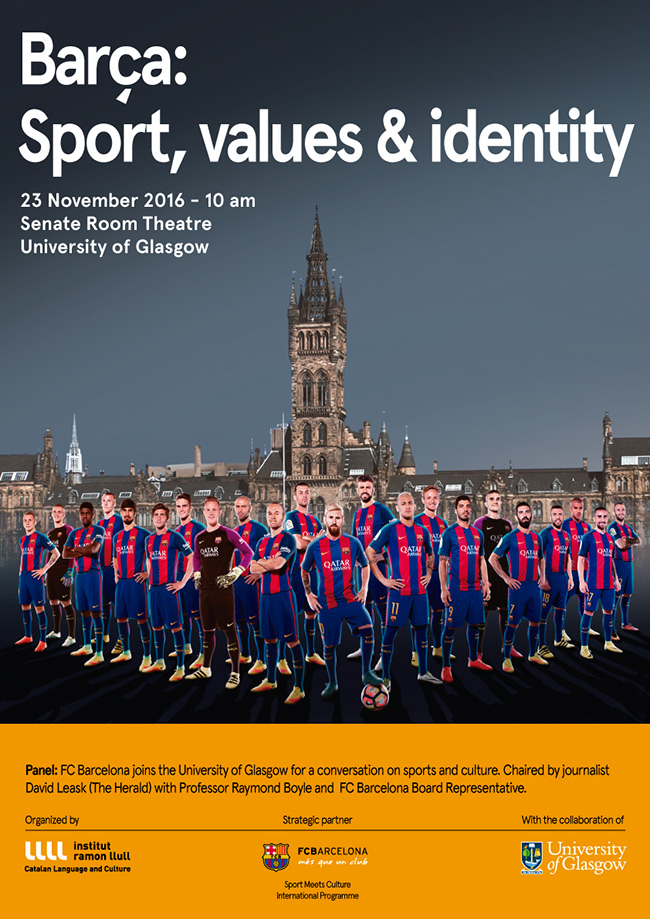 ---
First published: 14 November 2016