Japanese film crew visit UofG
Issued: Tue, 24 May 2016 09:30:00 BST
The University last week hosted a film crew from the Japanese television channel TBS (Tokyo Broadcasting System) who were making a documentary about alumnus Kaichi Watanabe, writes Darren Walker, Hamilton Grammar School student.
Watanabe was part of the team of engineers who built the iconic Forth Rail Bridge in 1890, one of the first cantilever bridge structures; it was later designated a UNESCO World Heritage Site. ‌
Born in Tokyo in 1858, Watanabe was one of the first Japanese engineers to study and work in the UK. He graduated from the University in Civil Engineering in 1886 – passing all of his exams at the first sitting.
He was then employed as a construction foreman during the building of the Forth Bridge. After returning to Japan he became better known for his contribution to the Hokuesta Railway Company.
Recreating the human cantilever bridge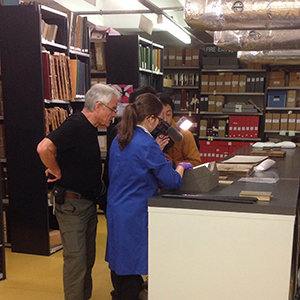 The film crew began their day in the University archives, inspecting and filming various matriculation slips and class prize lists filled out by Watanabe during his time as a student. Following this the crew visited the School of Engineering where they recreated the famous human cantilever bridge model.
Watanabe demonstrated the cantilever bridge principle with design engineers Sir John Fowler and Sir Benjamin Baker in a very famous photograph taken at the time of the building of the Bridge.
It shows the three men demonstrating the cantilever principle and has since been recreated many times, including last week when the TV Tokyo crew shot various permutations of people demonstrating the human cantilever bridge.
Participants last week were senior lecturers Lukasz Kaczmarczyk, Caroline Gauchotte-Lindsay and Harish Veeramani from the School of Engineering; TBS's translator Jim Cuthbert; and myself (a 14-year-old pupil from Hamilton Grammar on work experience with the Communications and Public Affairs office for a week).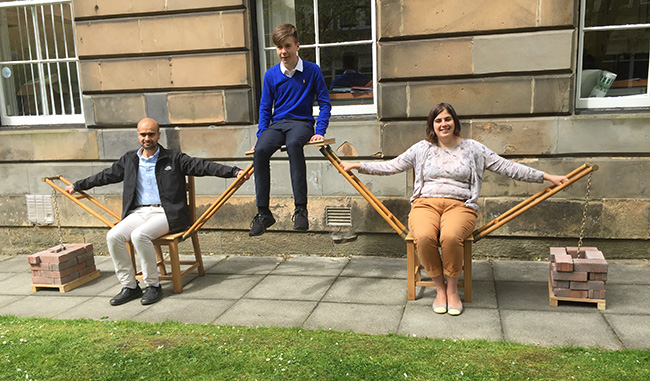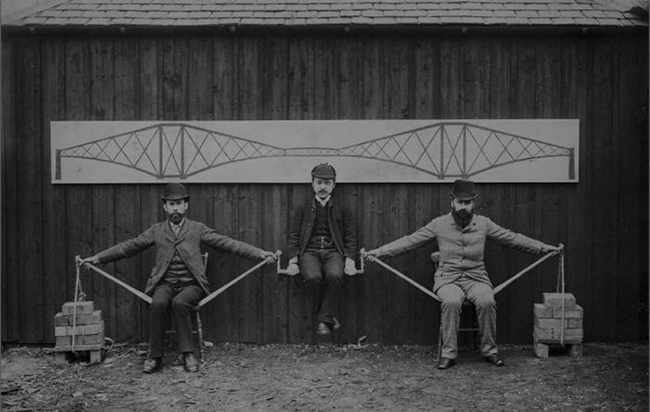 ---