Rhian Touyz: Distinguished Scientist Award
Issued: Mon, 16 May 2016 09:50:00 BST
Professor Rhian Touyz, director of the Institute of Cardiovascular and Medical Sciences, has received a Distinguished Scientist Award from the American Society of Hypertension (ASH).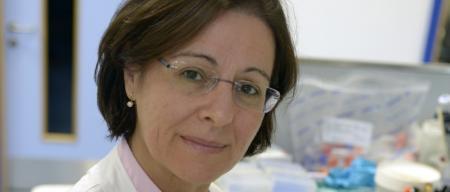 Professor Touyz received The Irvine Page Award for her world-leading work in the area of hypertension, specifically into the molecular, cellular and vascular biology of hypertension.
The purpose of the ASH Distinguished Scientist Award is to honor a scientist or physician for outstanding achievements in the field of hypertension. Only one ASH Distinguished Scientist Award is given each year.
'Honoured and humbled'
Professor Touyz said: "I feel truly honoured and humbled to be the recipient of the Irvine Page award of the American Society of Hypertension. Dr Page was a pioneer in hypertension research and a giant in cardiovascular medicine.
"He was amongst the first to recognise the multifactorial complexity of hypertension. His Mosaic Theory has been the framework upon which I have developed my research into the molecular, cellular and vascular biology of hypertension.
"It is with tremendous pride that I receive this honour and to follow in the footsteps of so many previous eminent awardees. This award also recognizes the outstanding contributions of all my lab members-past and present."
As part of her award Professor Touyz will deliver a 30 minute lecture during the Awards Session at the ASH Annual Meeting.
The award is named after Irvine H. Page, MD, who made significant discoveries and contributions to the treatment of hypertension. He is best known for the discovery and characterization of angiotensin, the identification of serotonin, and the 'mosaic theory'.
Professor Touyz is also the British Heart Foundation (BHF) Chair of Cardiovascular Medicine. She is a clinician-scientist focusing on hypertension research, and is an honorary consultant at the Queen Elizabeth University Hospital.
Professor Touyz's areas of research include clinical and experimental hypertension, signal transduction, oxidative stress, ion transport, vascular biology, adipose tissue biology and diabetes. She has a particular interest in translational and clinical research.
Professor Touyz has received numerous awards, including the Dahl Award from the American Heart Association (AHA), the Harriet Dustan Award from the AHA and the Robert M Berne Distinguished Award from the American Physiological Society. She is the Editor-In-Chief of Clinical Science and Deputy Editor of Hypertension. She is also the Associate Editor of Pharmacological Reviews.
---