UK Congress of Palliative Care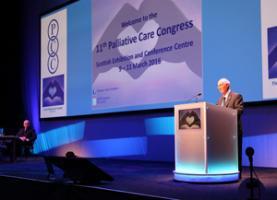 Professor David Clark, founder of the Glasgow End of Life Studies Group, gave a successful lecture on the group's research project Global Interventions at the End of Life on the opening night of the biennial UK Congress of Palliative Care. The event took place at the Scottish Exhibition and Conference Centre (SECC) in Glasgow on Wednesday 9 March 2016.
The lecture was introduced by the University of Glasgow's Chancellor, Professor Sir Kenneth Calman, who is very well known in the palliative care world and a former editor of the Oxford Textbook of Palliative Medicine.
In his lecture, Professor Clark gave an overview of the work done by the research team in its first year, highlighting some of their achievements so far and giving details of challenges ahead.
During the talk there was a keen following on twitter #PCC2016, and the audience joined an spirited Q&A session with questions ranging from workforce planning, to the idea of the death cafe, to the relationship between palliative care and assisted suicide. All members of the research project team were introduced during the lecture, and they joined in the discussion afterwards.
The Global Interventions at the End of Life project is funded by the Wellcome Trust and is based on the University of Glasgow's Dumfries Campus.
Professor Clark and his team met again to attend the first meeting of a newly formed Palliative Care Research Forum for Scotland.
There's more about the leacture and the Glasgow End of LIfe Studies Group:
Audio of the lecture will soon be available on the Soundcloud website
You can read "First steps towards a palliative care research forum for Scotland" on the Groups blog page.
The Glasgow End of Life Studies Group can be found on Twitter
And visit the website: Glasgow End of Life Studies Group
For more information on the recent conference: 11th Palliative Care Congress
---
First published: 10 March 2016