How well do you know Glasgow?
Issued: Mon, 06 Jun 2016 15:04:00 BST
Understanding Glasgow is a web-based information resource, designed to describe health and wellbeing in Glasgow, using all the latest statistics.
The website also provides a range of resources such as films and case studies to illustrate life in the city.
Search your postcode
Users can also use the postcode search facility to look at stats for particular communities in Glasgow, and see how they compare across the city.
A village of 100
This infographic illustrates what Glasgow would look like as a village of 100 people and is part of a wider set of population visualisation graphics.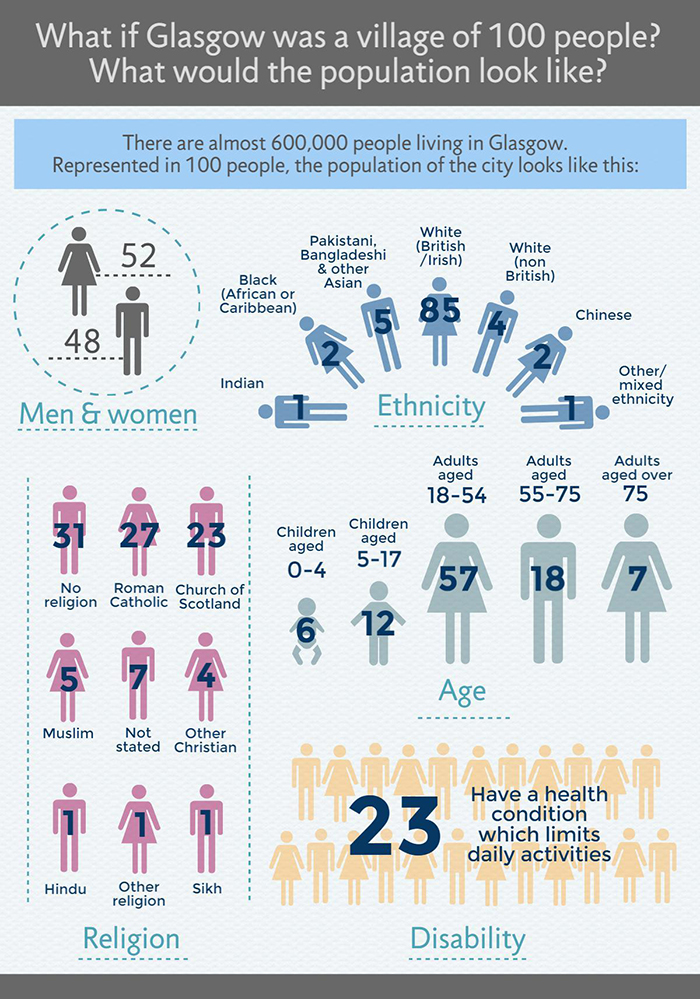 Health and wellbeing mandala
Understanding Glasgow uses a 12 domain 'mandala' to describe health and wellbeing, reflecting a dynamic interlinked view of the city.
Each domain includes a basket of indicators – for example, the health domain includes indicators of life expectancy, healthy life expectancy, disability and mental wellbeing. The indicators illustrate trends, enable comparisons and highlight inequalities.
One purpose of the Glasgow Indicators is to allow progress to be monitored, another is to encourage civic engagement on cross-cutting issues that face the city.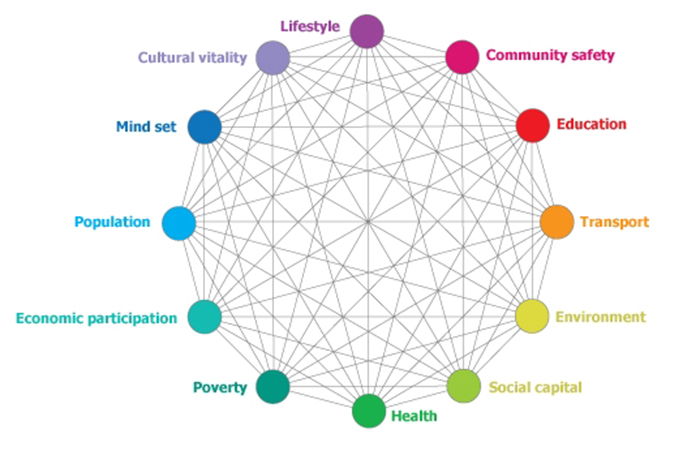 Many more features
The site also includes a set of children's indicators, profiles of Glasgow neighbourhoods, a section on asset-based community projects, a series of films in which Glaswegians tell their stories in their own words and a section on using the data in schools and universities and how to generate new insights – for example, by playing the Glasgow Game.
Take part in the survey
There is an online survey to capture feedback on the neighbourhood profiles to see how well they represent people's perceptions of these neighbourhoods.
Once you've had a look at the site, please do contribute to the survey.
Partners with UofG
Understanding Glasgow has been developed by the Glasgow Centre for Population Health (GCPH) in in collaboration with a range of local partners, including Glasgow City Council, Glasgow's Community Planning Team, Community Safety Glasgow, Glasgow Life, the University of Glasgow, NHS Greater Glasgow and Clyde and the International Futures Forum.
Get in touch
If you would like to find out more about the Glasgow Indicators project, about how we are developing the Understanding Glasgow website, about how these resources are being used in academic settings or about how we are using the Glasgow Game to address strategic questions for the city, please get in touch.
You can contact us at: info@understandingglasgow.com
---