Royal College appointment for UofG Professor
Issued: Wed, 13 Jul 2016 09:17:00 BST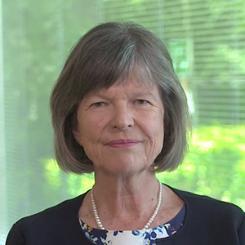 Professor Mary Ann Lumsden, Professor of Gynaecology and Medical Education in the School of Medicine, Dentistry and Nursing, has been elected as a Vice President of the Royal College of Obstetricians and Gynaecologists. Professor Lumsden also has a UofG role as Associate Academic with the Institute of Health and Wellbeing. She is one of five, new Vice Presidents to be elected.
‌The new team will take up post in September 2016, and will then work with RCOG President-elect, Lesley Regan, to lead the College over the next three years.
This year candidates applied for all vacancies rather than a specific post. Professor Regan will now work with her new team to review the available roles and agree portfolios.
'Ambitious agenda'
Professor Lumsden told Campus e-News: 'I am delighted to have been appointed a Vice President of the Royal College of Obstetricians and Gynaecologists of which I have been a member for 30 years and actively involved in for more than 20 years.
'This is one of the major organisations for furthering the women's health agenda in the world. About half of the membership live and work outside the UK and so its relevance extends far beyond our borders. I have always been a strong advocate of the right of all women, regardless of age, to be given appropriate care to enable them to fully contribute to their families and societies. The RCOG has a 'life course' approach caring for women from birth to death. There is no one in the population who is not touched since all men will also have mothers, daughters and partners who encounter gynaecological or obstetric services at some time in their lives. The RCOG, in conjunction with the GMC, is responsible for developing and delivering all postgraduate teaching in the speciality and it also has ambitious programmes for training doctors overseas where women still die far too often in childbirth or from common and treatable cancers.
'The officers contribute to activities both at home and overseas. I will be able to use my experience of undergraduate and postgraduate education that I acquired here in Glasgow to contribute to this agenda as well as that in evidence based medicine and Guideline Development to promote improvements in quality of care for women everywhere. My 25 years in Glasgow has helped me develop leadership skills that I will be able to use to help with delivering this ambitious agenda.'
RCOG President Dr David Richmond, said: "I'm delighted that we have appointed such a strong team to support the President-elect and lead the College over the next three years. Their experience, skills and commitment to women's health will be invaluable in their new roles.
"Over the summer, Professor Regan and I will be working closely with the current and new Vice Presidents to ensure a smooth transition between the outgoing and incoming teams."
Read more about Professor Lumsden, and watch a video, on the Royal College of Obstetricians and Gynaecologists website.
---