Vigil for Baghdad
Issued: Tue, 12 Jul 2016 08:34:00 BST
A vigil was held in the University Chapel last week for the hundreds of people killed and seriously injured in the Baghdad bombing on Saturday 2 July.
People wanting to show their respect began to gather at 2pm on Friday, and sat quietly for 45 minutes, while a video loop showed images and reports of the attack by so-called Islamic State. Candles were also lit as a symbol of remembrance.
A small sign next to the Iraqi flag on display in the Memorial Chapel, carried a verse from the Quran: 'Indeed we belong to God and to Him we shall return.'
A car bomb exploded on a busy street in the Karrada district of the Iraqi capital late in the evening of 2 July. The area was busy with shoppers, many of them families with children, because of the holy month of Ramadan. It took many days to establish the number of men, women and children who died - now put at 281 - because of the scale of the devastation and the intensity of the fires that raged in the aftermath.
The vigil was organised by Salim Al-Wasity, a PhD student in the School of Engineering, along with other colleagues from Iraq and elsewhere in the Middle East.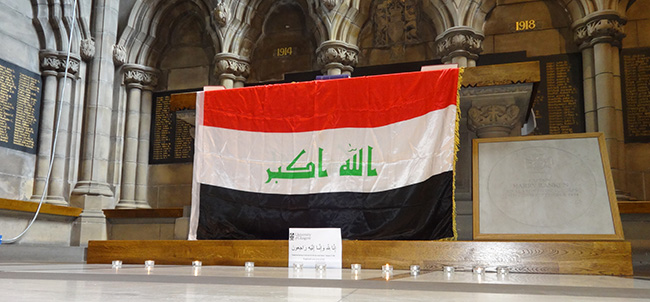 ---