Kevin O'Dell appointed Dean for Public Engagement
Published: 12 July 2016
Professor Kevin O'Dell - School of Life Sciences - has been appointed as Dean for Public Engagement from 1 July for a term of four years.
Professor Kevin O'Dell has been appointed as Dean for Public Engagement from 1 July for a term of four years, writes Louise Mitchell, Research Strategy & Innovation Office.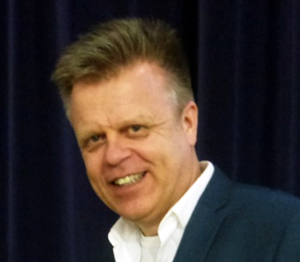 This is a new position to support Vice- Principal Jon Cooper and colleagues in RSIO to significantly increase the range, participation in, and impact of the University of Glasgow's Public Engagement activities.
Kevin has many years' experience of both undertaking and leading Public Engagement activites and projects. These include the Images on the Clyde in conjunction with Glasgow Science Centre, events for the Royal Society of Biology and the Glasgow Science Festival and the highly acclaimed Comedy Sciences shows Zombie Science and Superhero Science in partnership with Time-Tastical Productions seen by over 65,000 people and supported by the Wellcome Trust. The reputation he has established in the Public Engagement sphere is reflected in him being awarded Innovator in Public Engagement by the Royal Society of Edinburgh in 2014.
Professor Cooper said: 'Kevin brings to this position a real passion for Public Engagement and has an enviable track record. He will be an excellent advocate in encouraging and supporting colleagues whether they are experienced public engagement practitioners or completely new to the area. Kevin's appointment will enable us to really enhance the support for colleagues to leverage the use of public engagement to enhance their research and its impact.'
Kevin said: 'I'm delighted to have been appointed Dean of Public Engagement. It's clear that many of our staff are delivering a wide variety of high-quality and innovative public engagement activities to people across Scotland and far beyond, and I'm really looking forward to working with such a talented group of people.'
This is a part-time position and Kevin will also continue in his current role of Professor of Behavioural Genetics in the School of Life Sciences in MVLS.
---
First published: 12 July 2016