Royal visit for Pitch@Palace
Published: 9 February 2016
His Royal Highness, The Duke of York brings Pitch@Palace Tour to the University of Glasgow
HRH The Duke of York was welcomed today to the University of Glasgow by Principal and Vice-Chancellor, Professor Anton Muscatelli.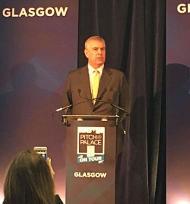 Prince Andrew, referred to in Scotland as the Earl of Inverness, was visiting the university as part of his Pitch@Palace tour, which aims to support entrepreneurs with the amplification and acceleration of their business ideas.
Professor Muscatelli, said: "I am delighted to welcome HRH the Duke of York to the University of Glasgow. As an institution that prides itself on producing world-changing ideas and research, we are pleased to be hosting HRH's Pitch@Palace entrepreneurial event.
"This event is designed to highlight the work of innovative biotech start-up companies, so hosting it at the University of Glasgow, which is home to cutting edge research and technologies, was a natural fit."
The introductory speech was delivered by Jim Reid from the Scottish Life Sciences Association.
Boot Camp
The event showcased some of Scotland's most promising Biotech entrepreneurs, including a pitch from Professor Graeme Milligan from the Institute of Molecular Cell and Systems Biology, about his company Caldan Therapeutics Ltd, and one from University of Glasgow students on their dementia aiding packaging MindMate.
The Pitch@Palace event was hosted by The University of Glasgow and supported by Informatics Ventures, Johnson & Johnson Innovation and TalentSpark (a service for startups in Scotland provided by recruitment firm Eden Scott).
Three Biotech entrepreneurs who pitched will be selected by the judged for a place at Pitch@Palace Boot Camp where they will compete to pitch for a final time at St. James's Palace in March.
Steve Ewing of Informatics Ventures said: "This is the second time Pitch@Palace has come to Scotland and the Biotech space is rich segment of our entrepreneurial ecosystem. What we know about Pitch@Palace is that opportunities afforded to previous finalists from Scotland, along with the valuable connections they have made throughout the process, illustrate what an important event this has become."
Jane Kennedy of TalentSpark emphasised the impact Scottish biotech firms are having on the wider UK: "This year we will witness biotech businesses undergoing exponential growth in Scotland. We have recently partnered with several high growth biotech companies to aid them in attracting further investment."
---
First published: 9 February 2016