World Changing Campus makes headlines
Issued: Tue, 09 Feb 2016 09:23:00 GMT
The last few days has seen a spate of positive news coverage on our plans for a World Changing Campus.
It began with a Times feature under the headline: "£1bn expansion to transform university into a world-beater".
The article, by Times journalist Marc Home, reported that "the creation of a new campus at the University of Glasgow, on the site of the former Western Infirmary, will be the largest single educational project in Scotland's history and will generate thousands of jobs."
The news story quoted Principal and Vice Chancellor, Professor Anton Muscatelli, saying the investment would ensure the University became one of the world's top Higher Education establishments.
The University announced in 2013 it planned to buy back the hospital site which was gifted in the 19th century. The 14 acres will come back under University care in early April.
The Times report also said the plans would create a new, civic square and establish the finest museum quarter outside of London.
The Times piece was followed up by the Evening Times in Glasgow a day later with the headline: "'Museum quarter' has £1bn budget for a West End revamp".
The current project to refurbish and restore the University Tower also got a share of the limelight at the weekend. The Herald newspaper ran an article on the work, reporting that the £1.7 million project will end in April when the restored tower is revbealed once more from under its covering of scaffolding.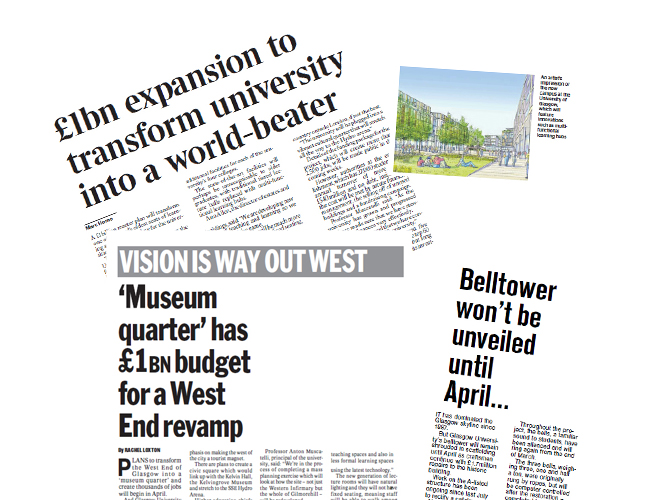 ---