First Minister announces £4m 'Precision Medicine Ecosystem'
Published: 8 February 2016
The University of Glasgow is set to become a key player in a Scottish "global centre of excellence" in precision medicine thanks to a £4 million Scottish Government investment.
The University of Glasgow is set to become a key player in a Scottish "global centre of excellence" in precision medicine, tackling diseases such as cancer and multiple sclerosis, thanks to a £4 million Scottish Government investment.‌‌‌‌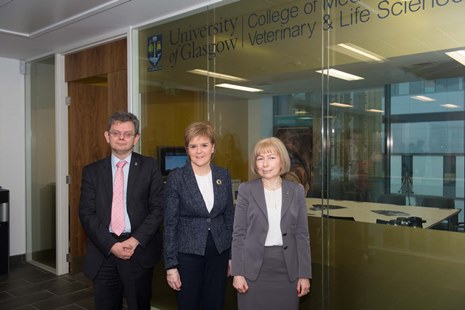 First Minister Nicola Sturgeon MSP announced the investment on a visit to the University of Glasgow-led Stratified Medicine Scotland Innovation Centre (SMS-IC) at the Queen Elizabeth University Hospital in Glasgow.
She was briefed on how it will be used to keep Scotland at the forefront of global efforts to tackle complex diseases.
The First Minister was met at the SMS-IC by University of Glasgow Principal and Vice-Chancellor Anton Muscatelli and Vice Principal and Head of the Medical Veterinary and Life Sciences College, Professor Anna Dominiczak.
Precision Medicine Ecosystem
Precision medicine is the practice of linking detailed biology such as DNA to health and disease, allowing treatment to be tailored to the individual characteristics of each patient. It has been described as the key strategic approach to the future diagnosis and treatment of disease.

The Scottish Government has committed to provide funding of £4 million over the next 15 months to support the development of the Precision Medicine Ecosystem for Scotland.
The investment will see the establishment of a 'Precision Medicine Ecosystem' that will co-ordinate precision medicine resources and opportunities across Scotland, bring together the findings from individual research projects and improve information sharing in the fight against diseases.
The Precision Medicine Ecosystem will join up the broad field of 'infomatics' to link detailed biology with human health and diseases across Scotland. It will also see a more powerful SMS-IC, that with align outstanding NHS, academic and business assets to drive change and create efficiency.

The funding will also support two flagship national programmes. 'Precision Panc' will use state of the art techniques to better characterise pancreatic cancer, allowing patients to be recruited to clinical trials efficiently and quickly. 'Future MS' will study multiple sclerosis at the genetic level to help answer why the condition progresses differently in individual patients.
Leading role

The First Minister said: "This is a really exciting development that could transform how we treat some of the most serious illnesses.

"To be able to analyse the DNA of a tumour, for example, to determine how best to fight that patient's cancer, is a fascinating step forward in medical science and something that this Government is absolutely committed to investing in.

"The Precision Medicine Ecosystem will undoubtedly reap benefits for patients in Scotland, by speeding up the development of new medical therapies and enhancing the health care treatment options that are on offer for patients.

"This Government will continue to strive to further enhance Scotland's growing reputation as a global centre of excellence for clinical research.

"Continued investment in precision medicine can undoubtedly help bring health and wealth benefits for generations to come."
The need for Precision medicine is being driven by increased understanding of disease, coupled with the accelerating costs of chronic disease and the burden it is placing on the healthcare systems. Tailoring treatment to those who will benefit most will increase healthcare outcomes and cost effectiveness, and identifying those who will predictably experience adverse reactions will increase safety of interventions.
Professor Anna Dominiczak, Vice-Principal and Head of the University of Glasgow's College of Medical, Veterinary and Life Sciences, said:
"We were delighted to welcome the First Minister to the Stratified Medicine Scotland Innovation Centre today to offer an insight into some of the cutting-edge precision medicine techniques being developed in Scotland.
"Finding new ways to provide the right drug to the right patient at the right time, tailored to their genetic and molecular make up, will create a revolution in healthcare. We're proud that Scotland is breaking new ground in this very exciting field of research, and we're prouder still to be playing a leading role in the Scottish Precision Medicine Ecosystem."
The SMS-IC is a collaboration comprising the Universities of Glasgow, Edinburgh, Dundee and Aberdeen; NHS Greater Glasgow and Clyde, NHS Grampian, NHS Lothian and NHS Tayside, together with the business partners, global biotechnology company, Thermo Fisher Scientific, and biomedical informatics company, Aridhia Informatics.

The SMS-IC is equipped with a state-of-the-art core laboratory comprising a suite of next generation DNA sequencing platforms and a purpose-built high-capacity compute platform provided through its industrial partners. This capability allows the team to generate whole genome sequence data from anonymised patient samples to assemble the sequence data and compare this with clinical data relating to response (or the lack of response) to drug therapy.
---
First published: 8 February 2016