News and events round-up
Published: 12 December 2016
Tributes to alumnus weatherman Ian McCaskill ... Staff pay-day is the 23rd ... DJ's Christmas party raises more than £4000 ... how your personal data helps HR help all ... Dunedin Messiah Ticket Offer ... and the results of last week's poll.
Tributes to alumnus Ian
Many tributes have been paid overnight to the former BBC weatherman, and UofG alumnus, Ian McCaskill, who has died aged 78. The comedian Rory Bremner said he was a "lovely man". Channel 4 forecaster Liam Dutton said he had grown up watching Ian who was "a lovely guy". His daughter Kirsty McCaskill said: "Ian was a truly lovely man who loved his family unconditionally and brought lots of sunshine to people's lives with his friendly smile, kindness and sharp wit. Ian McCaskill was born in Glasgow and educated at Queen's Park School, Glasgow and Glasgow University, where he studied science. He is survived by his wife Pat and two daughters, Vicky and Kirsty, two step-sons, Tim and Matthew, and nine grandchildren.
Pay-day comes early
The Finance Office has announced that pay day in December will be brought forward from the customary, last banking day of the month (December 31) to December 23: this will be the last working day for the majority of University staff before the Christmas and New Year break.
The Senior Management Group has agreed to make the last working day in December 'pay day' every year.
DJ's Christmas Party raises £4000+
This week has marked up the fifth DJ's Christmas Party, something of a University of Glasgow festive institution for staff and an event where reputations can be made (or lost!) The DJ in question is Estates & Buildings Project Superviser Derek Johnston. For five years he has been organising a Christmas party for work colleagues from all parts of the University and raising money for a children's charity at the same time. Before this year's bash Derek had already reached a total of more than £14,000 for the Make-a-Wish Foundation, which helps children with life-threatening illnesses and before that Radio Clyde's Cash for Kids. This weekend's party raised £4165 for Make-a-Wish making a total over the last five years of more than £18,000.
DJ's Christmas Party is also supported by the Ferguson Bequest.
Dunedin Messiah Ticket Offer - 10% off
Dunedin Consort - Handel's Messiah – Sunday 18 December 2016 7pm
Dunedin Consort return to the Bute Hall on Sunday 18 December for their annual performance of Handel's Messiah, directed by John Butt, Gardiner Professor of Music at the University of Glasgow.

As Handel's best-loved work, Messiah presents a journey through many of the central values associated with the festive season, best represented in the words of the Angel: 'Fear not, for behold, I bring you good tidings of great joy, which shall be to all people.' With its effervescent choruses, interspersed with both virtuosic and beautifully lyrical arias demonstrating Handel's unique gift for vocal writing, its humanity still readily communicates with listeners today. With the expert direction of John Butt and the unparalleled dynamic clarity of its singers, Dunedin's rendition captures the universal hope and sheer joyfulness in Handel's score.
As a member of staff at the University of Glasgow, we are delighted to offer you a 10% discount on tickets to this performance. Just quote 'HANDEL16' to the Box Office to receive your discount - further details can be found here.
John Butt - director
Mhairi Lawson - soprano
James Laing - countertenor
Nicholas Mulroy - tenor
Roland Wood - bass
Book your tickets online, over the phone (0141 353 8000) or in person at the Glasgow Royal Concert Hall Box Office.
Every little datum helps
Have you ever wondered why the University asks for your personal data? The information you provide shapes how services are delivered to staff. For example, Human Resources use it to review provisions for staff with disabilities and ensure they are properly supported, to make sure recruitment is fair, and to conduct equal pay audits.
Any data you provide is treated in strict confidence and in accordance with the 1998 Data Protection Act. The University shares anonymous summary data with our campus trade unions who help us promote equality with campaigns like the award-winning #UofGFullStop.
To review and update your personal data, go to the HR website, log in to HR Self Service (CoreHR) and click on 'My Profile' at the top right of the screen. Sharing your data with HR helps to complete the picture of the University community … it can help in an emergency … and it makes sure information is sent to the right place.
Share a journey this festive season
Holidays are coming and you're probably starting to plan your journey back home. Driving home alone can be boring and expensive, and it's bad for the environment too: more cars on the road means more congestion, more pollution, and more fuel being consumed.
This Christmas, why not save money AND reduce your carbon footprint?
Try the University of Glasgow JourneyShare System: it's part of SPT JourneyShare and LiftShare, the largest car-share network in the UK.
UofG JourneyShare is a platform where you can offer and share one-off trips or regular journeys, making your travel more efficient and lower carbon. When you find a journey match, simply make contact and arrange to meet, and soon you'll have a travel partner. Car-share travel costs are split between the person offering the lift and the person looking for a lift, so you both get a good deal.
By sharing journeys you will be saving money, as well as helping to preserve air quality and reduce emissions. Regular commuters can even save up to £1000 a year. Use the travel calculator to find out how much you could save.
Join UofG JourneyShare for free
Safe travels and happy holidays!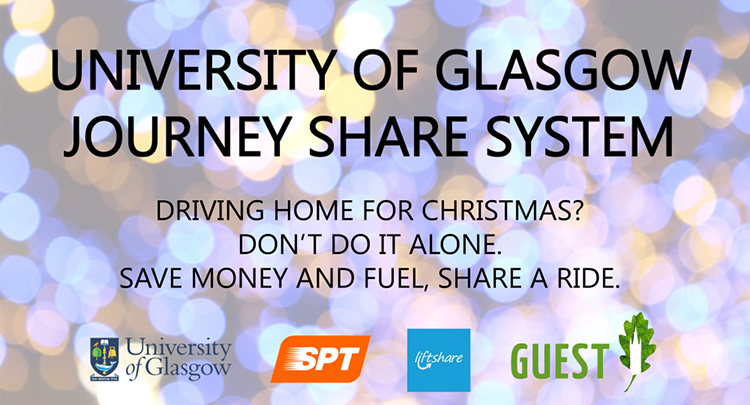 ‌
Results of last week's poll
The first week in December seems to be the target for decorations going up...how are yours looking? Or were you one of the 14 Scrooges who said bah humbug to that?!
What's the earliest you'd put up your decorations?
| | |
| --- | --- |
| Any time after Halloween | 4.2% |
| 1st-7th December | 39.9% |
| 8th-14th December | 24.5% |
| 15th-21st December | 16.8% |
| 22nd December | 2.1% |
| 23rd December! | 0.7% |
| 24th December!! | 2.1% |
| Decorations? Bah humbug! | 9.8% |
| Total votes: 143 | |
---
First published: 12 December 2016