UofG in Dickens' day
Take a trip with us back to the University of Glasgow in 1843, just as Charles Dickens is getting ready to publish A Christmas Carol.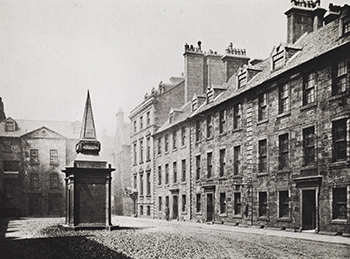 We'll have to travel two miles from the West End to the High Street, which was the University's home since its foundation in 1451. In 1843 the first things you'll notice are the smoke and the smell!
Glasgow is calling itself the second city of the Empire and the workshop of the world. Railway mania is here and, just to the North, they are about to build St Rollox steam locomotive works and the largest chemical plant in the world. Sanitation is appalling and this year 15,000 Glasgwegians suffered through typhus and cholera…many didn't make it.
The High Street is a slum with grim poverty and high crime rates. The University is worried about protecting its students and the priceless artefacts of the Hunterian Museum, and starting to think about a move to the greener, fresher farmland of Gilmorehill...
Servants of the Old College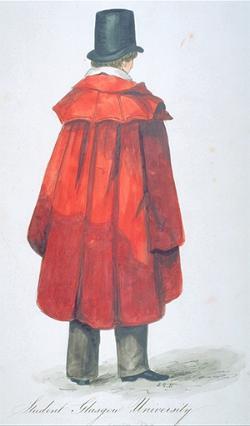 Staff lists from the 1800s include some roles we still more or less recognise - Bedellus, Janitor, Master of Works, Watchman – and some more obscure. The Bell-ringer's duties are obvious, but who would know that the Chamberlain was responsible for the University's coal supplies? He also made sure classrooms were lit, heated and properly ventilated, aided in the winter by a rotating cast of "occasional servants".
Town and Gown
In 1843, most of the University's 1,100 or so students could be identified by their festively red 'togati' and black silk hats. Matriculation wasn't compulsory until 1858 though, so there could have been many more unregistered students drifting around incognito!
Many thanks to UofG Archives & Special Collections for finding these details and images of life in 1843.
---
First published: 8 December 2016