Glasgow-Delhi Law MOU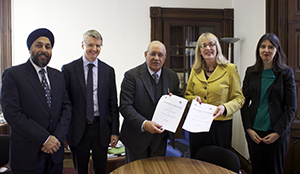 On 2 December, Professor Anne Anderson, Vice-Principal and Head of College of Social Sciences, met with Professor Ranbir Singh, Vice-Chancellor of National Law University, Delhi, India (NLU) to sign a Memorandum of Understanding (MOU) between the two institutions. They were joined by Professor Iain MacNeil, Head of the School of Law, and Dr Sukhpreet Singh, MSc CREATe Programme Leader, along with Dr Clare McManus, College International Lead.
The MOU will facilitate more detailed discussion and agreement on specific forms of collaboration between the School of Law and the NLU in the near future. The NLU is one of the premiere law education and research institutions of India, with existing links to institutions such as Harvard Law School, University of Melbourne and Osgoode Hall Law School, Canada.
A fruitful delegation
Professor Singh's visit was a direct outcome of the University of Glasgow's visit to India last month; the largest-ever delegation of University academics to go to India. The group was led by Principal and Vice-Chancellor Professor Anton Muscatelli, and represented areas as diverse as Life Sciences, Innovation & Technology, Engineering, Physics, Business, Economics, Education and Law.
The delegation visited nine institutions across the cities of Bangalore, Delhi, Mumbai, Pune and Kolkata, meeting with potential academic and business partners across the country, as well as prospective students and a number of the University's alumni from India.
---
First published: 13 December 2016