Coping with the rush
Spare a thought for your University friends in the UofG Central Mail Room. If you think you are busy as Christmas and Hogmanay loom large, Mail Room Manager David Riggans and his three-strong team are having to cope with their own version of the manic Christmas rush.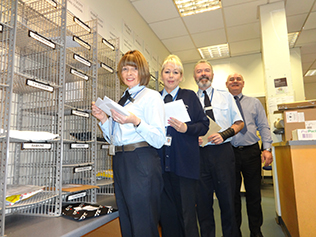 They expect to be dealing with up to 50,000 mail items during December before Santa starts his own parcel run. That is double the usual monthly traffic. Although email has killed off much of the traditional letter mail, it seems parcels and packets have hugely increased in volume. Many of the thousands of parcels that arrive each week have to be signed for and/or scanned. Each month one carrier alone picks up between 600 and 800 items of University mail being sent overseas, a sign perhaps of our international role.
Surf board
The Mail Room copes with 25 van deliveries a day and serves seven University mail stations, including Tay House at Charing Cross and now Kelvin Hall. The University's Transport Services help with the onward distribution. Manager David says: "Every mail carrier you can think of comes in here every day: Royal Mail, TNT, UPS, FedEx, Yodel, DHL. The list is endless!"
Some of the stranger items they have handled include a surf board, car tyres and on one occasion, rare Russian coins that arrived without a problem, but the Moscow museum refused to take them back.
And if we have a white Christmas? "We'll be here," says David Riggans. "Even in the bad winter of 2010 we managed to get in and keep the mail running. We are very aware that we have top class researchers working at the University doing amazing things and we are providing a service to them." That commitment is borne out by two framed certificates on the Mail Room wall: Royal Mail Gold and Silver evaluation awards made to the University of Glasgow.
---
First published: 7 December 2016