UofG lecturer shortlisted for book prize
Christoph Englert, a lecturer in Phsyics and Astronomy who works on particle physics, has been shortlisted for this year's Blue Peter children's book awards.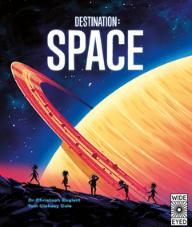 Christoph produced Destination Space with illustrator Tom Clohosy Cole.
The colourful book invites children to "hop on board the space shuttle and get ready for the ride of your life". The book seeks to let children explore deep space with five fellow space cadets. This journey of discovery takes the reader through our local solar system and beyond, to galaxies far and wide.
Christoph said: "The idea is that with every encounter, children can learn more about the science behind the stars, planets, meteors and comets in our sky, and the history of our universe."
Christoph is a lecturer in physics at the University of Glasgow. He was born in 1981 in south Germany, and after studying Physics at the University of Karlsruhe and ETH Zurich between 2002 and 2007, he received a doctorate in Theoretical Physics from Karlsruhe University. Dr Englert's research focuses on the physics of elementary particles and their interactions. This is his first book for children.
Tom Clohosy Cole is a London-based freelance illustrator, designer & animator. He was born in Brighton, and since graduating from Kingston University he has worked for a number of clients, including The Guardian, The New York Times and Morrisons. This is his first illustrated book for Wide Eyed Editions.
The winners will be announced live on Blue Peter on 23 February 2017, with the winning authors and illustrators appearing on a special World Book Day episode of the show on Thursday 2 March 2017.
Links
BookTrust Blue Peter short list
QuartoKnows - Destination:Space
---
First published: 12 December 2016