A star apprentice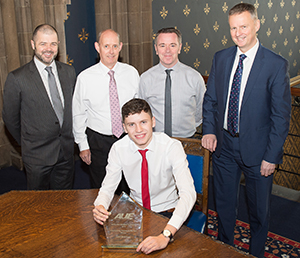 The University's Estates & Buildings team have a strong track record of successful apprenticeships. The latest rising star is 21 year-old Grant McGillivray from Gartcosh in Lanarkshire.
In September Grant won the 2016 Harland Roberts Award for "the most promising engineering apprentice in the university sector", presented by the Association of University Engineers.
Grant's nomination said he was "an exemplary apprentice who had demonstrated a thirst for learning". His ambition is to progress to a BSc.
Grant said: 'Working with Estates & Buildings – TeamEB – has been a great pleasure. My friends and colleagues in the maintenance teams have shared their knowledge with me, and I have been able to make some great friends and quickly fit in.
"I have thoroughly enjoyed my time here and look forward to completing my apprenticeship in July with the desire to stay here full-time and benefit from the development opportunities the University provides."
In our photo: Grant McGillivray, Mechanical/Electrical apprentice Award winner (seated). And from left to right: Barry Morton, Assistant Director Estates Operations and Grant's sponsor; Deric Robinson, Grant's original mentor and now Team EB coordinator; Matt McCaffary, Maintenance Inspector and Grant's nominator and Billy Ferguson, Engineering Operations Manager and Grant's Head of Department.
---
First published: 7 December 2016