Deep South by South West
Issued: Fri, 01 Apr 2016 14:11:00 BST
The School of Interdisciplinary Studies in Dumfries was delighted to welcome a group of staff and students from the University of Georgia, Athens (UGA) in recent weeks, writes Phillipa McNeill Student Recruitment Officer, Dumfries Campus.
Ten students from diverse backgrounds and degree programmes have been undertaking an international service learning project around issues of food insecurity in both the USA and Scotland.
The project was led by Dr Dennis Duncan and Dr Nick Fuhrman from the UGA College of Agricultural and Environmental Sciences.
Dennis and Nick first visited the School of Interdisciplinary Studies in June 2015 after learning about the School from Dr Steven Gillespie, the School Director of PGT programmes who visited UGA previously. Nick and Dennis were impressed by its combination of environmental science and sustainability, health and social policy and primary education programmes.
Following detailed planning on both sides, the UGA group visited Dumfries for a week-long study visit in early March. During their stay they worked with pupils and teachers from a local primary school to build curriculum and outdoor resources, produce an information video for a Dumfries food bank with a view to evaluating and addressing food insecurity in the wider community and had the opportunity to share information and ideas with students and staff from the School.
The plan, moving forward, is to build on this experience with a view to enabling collaborative student learning in future sessions through, for example, interactive video-linked classes or the comparison of data generated in the teaching gardens on both sides of the Atlantic. There is also scope for additional teaching and learning or research-based collaborations, such as the identification of international placement opportunities and the elaboration of further service learning or sustainability-focused projects.
Dr Duncan said: "The interdisciplinary approach to education on the Dumfries campus aligns beautifully with my UGA Scotland Study Abroad Program and my Global Seminar course on agricultural and environmental issues - both locally and globally."
Head of School, Dr Carol Hill said: "Under the leadership of our School International Lead, Jane Cavani, we have achieved many of the School's internationalisation objectives, but this is perhaps the most innovative. By opening our doors to a speculative visit from Dennis and Nick the School has established a strategic yet very real friendship with UGA, which is opening up all manner of opportunities for our students."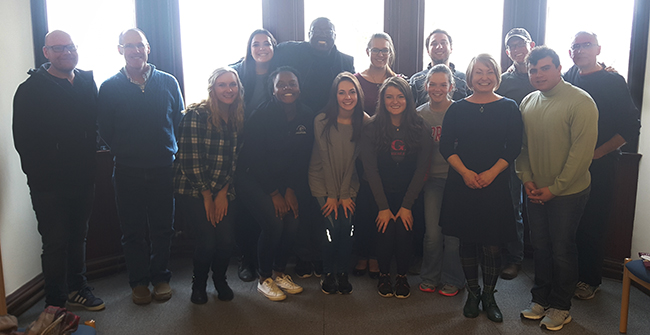 ---