Meet our Inspiring People
Issued: Fri, 01 Apr 2016 11:26:00 BST
Meet Scott Girvan, Executive Chef with Hospitality Services. Scott is the person responsible for creating and developing the menus for the food served on the Gilmorehill and Garscube campuses.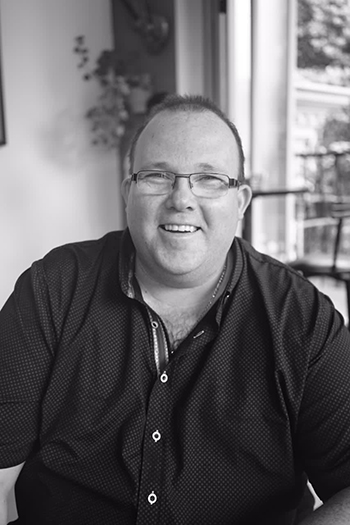 He is part of the team who not only provide the food for the numerous dining outlets on campus but also cater for functions, dinners and conferences; ranging from small bespoke dinners to their biggest function which served 2,200 people.
Based at the Fraser building, Scott has the challenge of providing high quality fresh food at an affordable price for students while also making money for the University.
It's a challenge he relishes as he is always keen to learn and experiment with new dishes and techniques.
Visiting China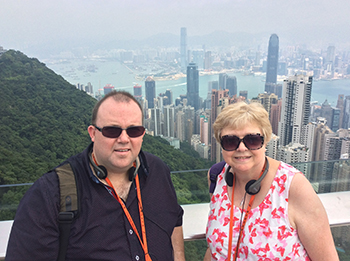 It was his thirst for knowledge that took him to China last year with a delegation of chefs from universities across the UK. For Scott, the trip was 'absolutely eye opening'.
‌The group visited Peking University in Beijing; with 200,000 students and 10,000 members of staff the catering department has a lot of people to feed.
The food court at the university has many different stations which each specialise in food from different regions of China.
"We learnt that food in China is highly regionalised," said Scott "each station we saw was busy but then we turned a corner and found a station that was almost empty.
"It was the western food station. On the menu for that section was fish and chips, pizza and lasagne. It looked nothing like fish and chips, pizza and lasagne that you would have in this country. The penny dropped that we were doing the same thing with Chinese food."
On his return to Glasgow Scott immediately started making changes to the dishes, flavourings and techniques used to create the Chinese food on offer at the University.
He said: "We got a focus group together of international students from different regions and they told me what they liked and what they did not. On their recommendation we have been using different types of sauces and flavourings, cooking new dishes and we have changed the way we cook rice.
"Although we can't make everything exactly how it would be in China we are trying to provide food that is authentic as possible. If students are missing home sometimes having a few wee things that remind them of home can make a difference."
With the new Chinese meals selling out most days it seems the changes have been a success but Scott says this is just the first step and he has plans to continue trialling new dishes from other countries.
Creative in the kitchen
Scott was first inspired to pursue a career in the kitchen by his mother.
He said: "My mum was creative in the kitchen. We never had much money but she did the best with what she had. I remember we would have a plate of potatoes in a tomato sauce and a jug of iced water on the table and she would say 'we are going Mediterranean today, boys!'"
While at school Scott won a prize for the best apple pie in the region which further spurred him on to train as a chef. The award success has continue with Scott scooping many culinary prizes throughout his career including winning best dessert dish at last year's Scottish Chef of the Year Awards.
Learning the job
Scott's cooking career started in the kitchen of a psychiatric hospital.
Scott said: "After working at the hospital for a few months my boss said 'if you really want to get into cooking you need to get into hotels.' So I found a job in a small local hotel.
"Once I was there the head chef told me 'if you want to get on, you have to work in a big hotel.'
"So I moved to a large hotel at Glasgow Airport for three years. When I was there the chef said 'if you really want to learn about cooking you have to move to London. So I transferred to a five star hotel in London.
"I worked in various kitchens in London for three years and specialised in Italian cooking. Then a chef told me 'if you really want to learn to cook Italian food you need to move to Italy.' So I transferred to a hotel in Milan.
"After working in Italy for a year I decided I wanted to get into management. My boss said 'if you want to get into management you need to go back to London'. So I went back to London to do a management trainee programme in a 900 bed hotel.
"After working again for a number of years in London, I decided it was time to move back to Scotland as my wife was pregnant. I went back to cooking in hotels after my years in management and also went to college to gain some qualifications. There I met a man who worked at the University of Glasgow and told me about a sous chef position here. I got that job fifteen years ago and have worked my way up since.
Looking to the future
Scott has plans to continue improving the hospitality service he and his team provide. Looking forward he hopes to develop a website which will allow staff and students to pre order food to pick up from the outlets on campus as well as providing a food delivery services to various University areas.
Scott said: "We are always trying to develop and more forward. I love this job because I have the freedom to develop new ideas. It is the best job out of the many I've had. They will have to drag me out of here!"
Meet our Inspiring People: Do you have a colleague who inspires you? Let us know at communications@glasgow.ac.uk
Quick Questions
What do you like to do when you are not at work?
I like music, TV and golf. I love lots of different styles of music; classical, jazz, swing blues. But mostly I listen to 80's music. I just can't leave the 80's!
When you were younger what did you want to be?
A long distance lorry driver or a chef. I got one of them.
What's your favourite place in the world?
As a holiday I would go back to America but, to live, Scotland really isn't a bad place at all.
Is there anyone at the University who inspires you?
Aileen McInnes is the Director of Hospitality Services and I'm always impressed with that way she handles everything she has to do. She is a great manager because she supports me but gives me freedom too.
---