Taster visits to European universities
Issued: Tue, 29 Mar 2016 11:35:00 BST
Students from the University of Glasgow are taking part in 'taster visits' to universities in other European countries to give them an insight into what it would be like to study abroad.
Two trips have so far taken place: one to Italy where students visited the University of Bologna and the other to the Netherlands where a group of students toured the University of Utrecht and University of Radboud.
Further trips are planned in April which will give two more groups of student the chance to visit the University of Copenhagen and University of Lund in Copenhagen and Barcelonan universities, the University of Pompeu Fabra and University of Barcelona.
The trips have been funded by £15,000 in in match-funding from the Scottish Government Outward Mobility Fund
The group of University of Glasgow students visiting Radboud University spoke to the Radboud student newspaper about their trip. Read more about their visit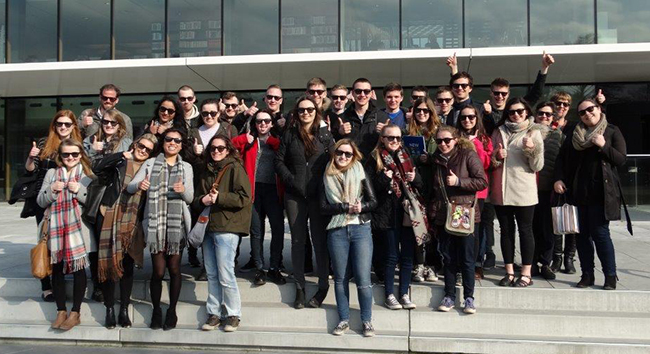 ---