Award for Law School's Jim Murdoch
Issued: Fri, 01 Apr 2016 14:54:00 BST
‌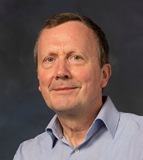 Professor Jim Murdoch, School of Law, University of Glasgow, has been selected as the recipient of Central European University's 2015-2016 European Award for Excellence in Teaching in the Social Sciences and Humanities.
The selection committee, comprised of distinguished international faculty and chaired by Patricia Albjerg Graham, Professor Emerita, Harvard University, said they were 'greatly impressed' by Professor Murdoch's achievements.
The European Award for Excellence in Teaching was initiated as a pan-European project by Central European University to mark its twentieth anniversary in 2011. The aim of the award is to promote and stimulate excellence in teaching across the European Higher Education Area (EHEA). The Diener Prize of 5,000 euros, which accompanies the award, is made possible by a generous gift from Steven and Linda Diener in memory of Ilona Diener.
Professor Murdoch is expected to travel to Budapest to receive the Award at the CEU Opening Ceremony on September 16, 2016.
To read more about the award visit European Award for Excellence in Teaching in the Social Sciences and Humanities
---