A softphone enables you make and receive phone calls from your pc or laptop/device.
If softphones are being set up as part of a team rollout, you don't need to request softphone via the UofG Helpdesk. Information Services colleagues will be in touch as the rollout takes place.
You must have a University telephone number to use softphone.
If you have an existing desktop phone, the licence for this will be transferred to your softphone.
When you switch to a softphone, your existing voicemail needs to be moved over also. If you have any unread messages in your voicemail, it cannot be moved over. You'll need to access your voicemail and clear any messages from your account, first.
When the softphone has been set up, you can download and install the software.
Download and install software
Instructions for installing the softphone software
Staff Standard Desktop (SSD)
Download Cisco Jabber from the Software Centre icon on your desktop. You must be on campus or connected via VPN.

Follow the instructions on the screen to install
Non Staff Standard Desktop
You can also download this onto your device from App Store or Google Play however you will only be able to use the softphone on that device. You won't be able to download it onto your Windows desktop/laptop as well.
Once downloaded and installed, the Jabber app should launch automatically. If it doesn't, open it by double clicking the icon on your desktop or opening the app.
If you see a window appear asking you to accept certificates, accept them all before proceeding. You may be asked twice to install the certificates and there is no security risk in accepting these. If these are declined, you will need to uninstall and reinstall this software.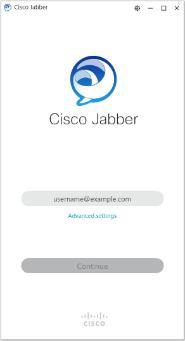 Once your account has been set up and you have downloaded the software, you can sign into Jabber
If the Cisco Jabber sign in window isn't already open, double click on the Cisco Jabber shortcut on your desktop
In the username@example.com field, enter your staff

GUID@gla.ac.uk
Click Continue
Your username (GUID@gla.ac.uk) will be pre-populated from the previous screen. In the password field, enter your password and click Sign In
If you have any problems logging in, double check that you have entered your GUID@gla.ac.uk (not GUID@glasgow.ac.uk). If you need help, please contact the UofG Helpdesk.
Once you have signed in, the Cisco Jabber window opens and you'll see your initials will be displayed in the top left corner.
At the bottom of the window, you will see a monitor shaped icon. Click on the icon and ensure that Use Computer is selected as the call setting.
Audio settings
Once you are signed in, check that your headset, speaker and mic are set up.
In the Cisco Jabber window, click on the Settings icon on the top right.
Select Audio to check your set up.
Sign into softphone voicemail
Once your voicemail has been activated on your softphone, you'll need to complete the set up.
When logged into Cisco Jabber, click on the icon in the top left corner, displaying your initials.
Select Settings on the menu displayed.
Select Accounts from the settings menu.
Under the Voicemail option, enter your staff GUID and password.
Click Apply and then OK to save the changes. Close the dialogue box.
If you have any new voicemail messages, a red notification dot will appear beside the voicemail icon.
Click on the voicemail icon to manage them.
Select a message to review or delete it. Unread voicemails will appear in bold.