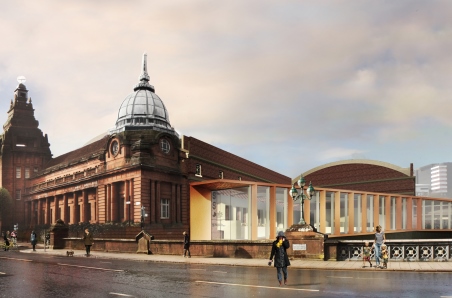 Kelvin Hall: about the re-opening
The new Kelvin Hall is a result of the partnership between the University of Glasgow, the National Library of Scotland and the city of Glasgow.
It has transformed the landmark building of Kelvin Hall into a centre of excellence for research, teaching, public engagement and health and wellbeing.
This combination of research, cultural heritage, civic, media, sport and commercial activities has few parallels throughout the world. It is globally distinctive in having students, researchers and the public working side by side.
The new Kelvin Hall development directly benefits the University of Glasgow in a number of ways:
Over one million items from the Hunterian's collections have been moved to the newly refurbished building. A digital portal and greatly improved access to objects has helped to forge new academic and educational practices.
Our collections-based postgraduate programmes offered by the College of Arts are now delivered in state-of-the-art teaching and conference suites at Kelvin Hall. Students and researchers are based alongside professionals in the museum and heritage sector.
An innovative public programme of courses that are inspired by and use the University's collections at Kelvin Hall is being offered by The Hunterian and the Centre for Open Studies.
Professional training and development for the cultural and heritage workforce is offered by our Academy for Cultural & Heritage Skills. Support ranges from apprentice-level skills training for new staff to bespoke programmes designed to develop the sector's leaders in the UK and internationally.