Quick Links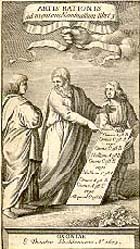 Obadiah Walker's 1673 Artis rationis, maxima ex parte ad mentem nominalium, libri tres (Sp Coll Veitch Eg5-f.6)
Veitch Collection
A collection of over 400 volumes, mostly early printed editions of the medieval scholastic philosophers, including: Peter Lombard (ca. 1100-1160), John of Salisbury (d. 1180), William of Ockham (ca. 1285-ca. 1349), Thomas Bradwardine (1290?-1349), Albertus Magnus (1193?-1280), Duns Scotus (ca. 1266-1308) and John Major (1469-1550).
While the collection is predominantly printed material - of which 29 items are incunabula - it also contains a small number of manuscript items, including 17th-century students' Philosophy class notes.
The Veitch Collection was presented to the Library in 1895 by the widow of John Veitch (1829-1894), Professor of Logic in the University of Glasgow from 1864 until his death.
How to find material in the Veitch Collection
Quick Links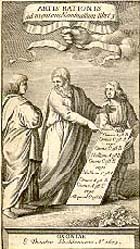 Obadiah Walker's 1673 Artis rationis, maxima ex parte ad mentem nominalium, libri tres (Sp Coll Veitch Eg5-f.6)