Quick Links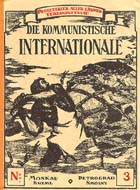 Front cover of Die Kommunistische Internationale no 3: (Trotsky Periodicals)
Trotsky Collection
An extensive collection of material written by, or relating to, Leon Trotsky (1879-1940), Communist revolutionary and one of the leaders of the 1917 October Revolution.
This large collection of Trotskiana, donated to the Library in 1983 by Trotsky's bibliographer Louis Sinclair (1909-1990), comprises some 1800 editions of Trotsky's works in 40 languages, together with numerous secondary items and several hundred periodical and newspapers featuring articles on Trotsky.
More recently, the collection has been augmented with a small group of papers and published material presented by the widow of Isaac Deutscher (1907-1967), Trotsky's biographer. Other significant additions include the first Russian edition of Where is Britain Going? (1925); copies of two films of Trotsky in Mexico, purchased from the cameraman who shot them; and numerous copies of original Trotsky correspondence held in North American libraries.
Finding material in the Trotsky Collection
Browse through a list of titles which have so far been entered on to the rare books search. (Please note that not all items in this collection have been catalogued).
A card index of Trotsky's works arranged by language, together with an index of secondary materials and periodical items is available on request in the Special Collections Department.
Louis Sinclair Trotsky: A Bibliography (available on Special Collections reference shelves)
David Weston, Trotsky: a display of material from the University's Trotsky Collection (Glasgow, 1987). Exhibition catalogue that has been updated as a virtual exhibition.
Some Trotsky items can also be found on the course material page introducing primary resources in the area of Slavonic Studies.
Quick Links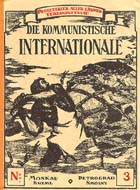 Front cover of Die Kommunistische Internationale no 3: (Trotsky Periodicals)