Quick Links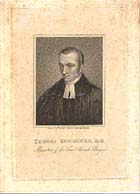 Engraving of Thomas Chalmers by Samuel Freeman (MS Gen 520/108)
Thomas Chalmers Collection
Bound volume of 43 letters and notes from Church of Scotland minister and social reformer Thomas Chalmers (1780-1847) to William Buchanan of Glasgow.
In his ecclesiastical career, Chalmers was a minister at:
Kilmany (Fife), (1803-1815)
the Tron Church in Glasgow, (1815-1820)
St John's Church in Glasgow, (1820-1823)
He also held several academic posts:
Professor of Moral Philosophy at the University of St Andrews, (1823-1828)
Professor of Divinity at the University of Edinburgh, (1828-1843)
Principal of the Free Church College, Edinburgh, 1843-1847
As Moderator of the General Assembly of the Church of Scotland, Chalmers had a leading role in the 1843 Disruption, which led to the formation of the Free Church of Scotland.
The volume was donated by Buchanan's great-granddaughter, Mrs H.L. Tidy.
Other relevant letters may also be found in the collection of correspondence at MS Gen 520.
How to find material in the Thomas Chalmers collection
See MS Gen 1036 for details of the bound volume (click 'list collection content' for item details)
See MS Gen 520 for other relevant items
Alternatively, use the manuscripts search to locate items
Quick Links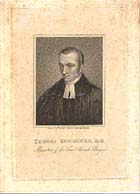 Engraving of Thomas Chalmers by Samuel Freeman (MS Gen 520/108)