Quick Links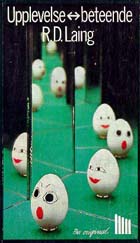 Front cover of Swedish version of "The politics of experience" (Laing 105)

‌
R D Laing in Chicago, 1972. From "R D Laing in the USA", (c) Surveillance Films, Inc.
R. D. Laing Collection
We hold two major collections of material relating to the psychiatrist and author, Ronald David Laing (1927-1989):

MS Laing - Laing's papers and personal library purchased from his estate in 1997.
MS Laing Add 1 – unedited film and audio, documenting Laing's 1972 US tour, filmed by Peter Robinson (director of a number of films about Laing including Asylum (1972). Presented by his son, Kenneth Robinson, in 2008.

Please note the access arrangements for this material.

R D Laing studied medicine at the University of Glasgow, before qualifying as a psychiatrist. His views on the experience and treatment of psychosis made him a controversial figure and the subject of much media interest, particularly during the 1960s. This decade saw the publication of his major works, The Divided Self (1960), the Self and Others (1961), the Politics of Experience (1967) and the setting up of a community household, Kingsley Hall, by the Philadelphia Association, co-founded by Laing in 1965. His legacy to the development of psychiatry remains the subject of lively debate; his life continues to provide inspiration for creative works including books, plays and films.

MS Laing includes medical correspondence and case notes, diaries, notebooks, press-cuttings, drafts of publications, unpublished writings and lectures, films and recordings, and the draft biography of his father by Adrian Laing. This extensive personal archive closely charts Laing's professional and private Odyssey, the considerable body of correspondence with professional colleagues and numerous friends standing at its centre. The many notebooks and commonplace books reveal his thinking on a broad range of subjects, while his appointment books provide a full and fascinating insight into his daily routine, social life and wide personal contacts. Accompanying the papers is Laing's personal library of books and music, as well as copies of his own publications.

MS Laing Add 1 comprises over 37 hours of film and 82 hours of audio recorded between 5 November and 8 December 1972 during Laing's tour of the USA. The gruelling schedule included New York, Boston, Philadelphia, Baltimore, Virginia, New Orleans, Salt Lake City, Los Angeles, Chicago and San Diego. This largely unseen footage offers a revealing and in-depth portrait of Laing in both formal and informal situations: speaking to audiences at university campuses, engaging in discussion groups, meeting professional colleagues, conducting media interviews and in private moments of relaxation. The film also depicts Laing's first encounter with the practice of 'rebirthing'.

Acquisition of MS Laing was generously supported by the National Fund for Acquisitions and the Friends of Glasgow University Library. Cataloguing was completed with funding from the Wellcome Trust, who also funded the conservation, transfer to digital format and audio transcription of MS Laing Add 1. Technical advice and support was provided by the Scottish Screen Archive (National Library of Scotland).
Access: due to the sensitive nature of some of this material, it is necessary to complete an application form before access will be permitted and an appointment may be required. Please contact us well in advance of planning your visit:special@lib.gla.ac.uk
How to find material from the R. D. Laing Collection
Note on organisation of Laing's personal library:
Laing 1-200: books by Laing
Laing 201-2435; f1-f42: general library (fiction and non-fiction)
Laing f43-68: published articles and papers by Laing
Laing f69-92: interviews with Laing
Laing f93-134: articles about Laing (including book reviews)
Laing f135-149: related subjects (for eg., Mary Barnes, Theodor Itten etc.)
Laing f150-181: non Laing-related
Laing f182: two boxes of tourist brochures/holiday ephemera
Laing f183: two boxes of miscellaneous annual reports for various institutions
Laing f184: seven boxes of single issues of journals
Laing f185: one box of miscellaneous leaflets and ephemera
Laing f186: boxes of music scores
Laing Periodicals: short runs of journals
Quick Links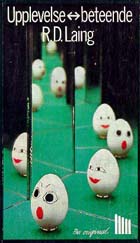 Front cover of Swedish version of "The politics of experience" (Laing 105)

‌
R D Laing in Chicago, 1972. From "R D Laing in the USA", (c) Surveillance Films, Inc.