Quick Links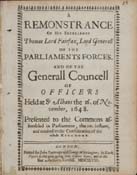 Titlepage of Sp Coll Ogilvie 582.
Ogilvie Collection
The collection comprises approximately 1,500 pamphlets printed during the English Civil War period and some 300 (predominantly theological) books from the 17th century including no less than 59 editions of the works of the Presbyterian divine, Richard Baxter (1615-1691). Pamphlets relating to the Church of Scotland in the 17th century are especially numerous.
The collection was formed by James Dean Ogilvie, LL.D., of Milngavie (c.1867-1949), a Glasgow businessman and, in his spare time, a book-collector, historian and bibliographer. That Ogilvie not only read but closely studied the books in his possession is evidenced by his extensive notes on the fly-leaves of his pamphlets and also by the scholarly papers he wrote for the bibliographical societies of Edinburgh and Glasgow.
J. D. Ogilvie died in 1949 and in the following year his daughter, Miss J.W. Ogilvie, presented the bulk of his library to the University of Glasgow. In 1955 Miss Ogilvie made a further gift of 231 "Long Parliament sermons" (i.e. the sermons ordered to be preached before the Commons at St Margaret's, Westminster, during the tenure of the Long Parliament, 1640-53), together with typescript introductions to 148 of them written by Ogilvie.
How to find material from the Ogilvie Collection
Browse through a list of books from this collection (Sp Coll Ogilvie) or use the rare books search to locate items.
Ogilvie's own hand written manuscript catalogue of the Long Parliament sermons is housed at MS Gen 1678/1.
A manuscript bibliography of Richard Baxter, along with notes on the books themselves, also written in Ogilvie's hand, is housed at MS Gen 1678/2.
Quick Links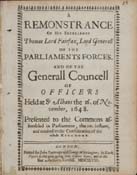 Titlepage of Sp Coll Ogilvie 582.