Quick Links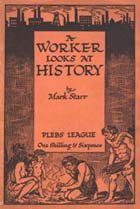 A Worker looks at History (Sp Coll Carmichael 87)
Carmichael Collection
A collection of almost one hundred Socialist books and pamphlets from the private library of James Carmichael (1894-1966), Labour MP for the Bridgeton division of Glasgow from 1947 until his retirement in 1961.
Originally elected in 1946 as a candidate for the Independent Labour Party (ILP), of which he had been a lifelong member, he was to be the last ILP Member of Parliament. A year after his election he joined the Labour Party and represented his constituency in Parliament as a Labour MP.
The collection contributes to our understanding of the intellectual background and political formation of those who gave a cogent voice to the arguments against the capitalism of the time.
The collection was donated by James Carmichael's son, the Rt Hon. Lord Carmichael of Kelvingrove.
How to find material in the Carmichael collection
Quick Links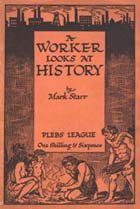 A Worker looks at History (Sp Coll Carmichael 87)