Quick Links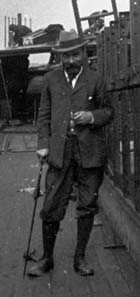 Bruce on the deck of the Scotia at Troon (detail from Sp Coll Photo C1/43)
Bruce Collection
Some 1400 stereoscopic glass photographic negatives made by William Speirs Bruce (1867-1921) on expeditions to the Arctic and Antarctic between 1899 and 1914.
The negatives include images from :
the Prince of Monaco's Arctic expedition on 'Princesse Alice', 1899
the Scottish National Antarctic Expedition on 'Scotia', 1902-1904
the Scottish Arctic Expedition on 'Conqueror', 1909
Locations portrayed include:
Ascension Island
South Africa
the Falkland Islands
the South Orkney Islands
Spitzbergen, Norway
the Monaco Museum
The title and date are inscribed on most plates, probably by Bruce; numbers were added by a different hand in an arrangement by subject which does not retain the chronological sequence in which the photographs were taken.
Included with the collection are albumen contact prints from some negatives and some positive glass plates.
Access to the original negatives is restricted owing to their fragility. Any photographs from the Bruce collection displayed on the Special Collections website have been produced digitally by the University's photographic unit from the negatives and are not available as original positives.
Please note that access to original photographic material is now strictly by appointment only and requires a minimum of 24 hours advance notice. Also some fragile items may be restricted for preservation. Please contact the Special Collections Reading Room: 0141 330 6767 or special@lib.gla.ac.uk
How to find material from the Bruce collection
Quick Links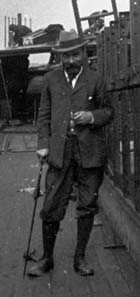 Bruce on the deck of the Scotia at Troon (detail from Sp Coll Photo C1/43)