Quick Links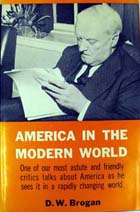 America in the Modern World (Sp Coll Brogan 19)
Brogan Collection
A collection of 120 works on American and French political history by Sir Denis William Brogan (1900-1974), representing his published output. As well as some of his many journal articles and book chapter contributions, it includes copies of some of his best known books:
The American Political System (Sp Coll Brogan 43)
An Introduction to American Politics (Sp Coll Brogan 23)
The Development of Modern France (Sp Coll Brogan 13)
Brogan was born in Glasgow and graduated MA from the University in 1923. Following a variety of academic posts, he became Professor of Political Science at Cambridge University in 1939. The University of Glasgow awarded him an LLD in 1946, and he was knighted in 1963. He was acknowledged as an international authority on American and French history.
Brogan donated a large number of academic texts to the University of Glasgow Library throughout his lifetime. In addition to these gifts, the library purchased several thousand volumes from his library in the late 1960s upon his retirement. These books - mainly material on American and French history - were dispersed throughout the Library.
In addition to the published works, the Special Collections Department holds some of Brogan's papers, consisting largely of:
further journal articles (many in typescript)
newspaper cuttings
lecture notes
How to find material in the Brogan Collection
To access a list of the published books in this collection, see Sp Coll Brogan; or locate items by using the rare books search
Details of the papers received in 1978 are available on the MS Gen 1581 collection description (use "List collection content" for a complete list of all the items held)
Further papers of Sir Denis and Lady Olwen Brogan, were received in 2008. These are restricted pending cataloguing.
Quick Links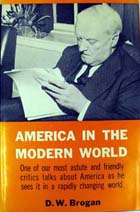 America in the Modern World (Sp Coll Brogan 19)