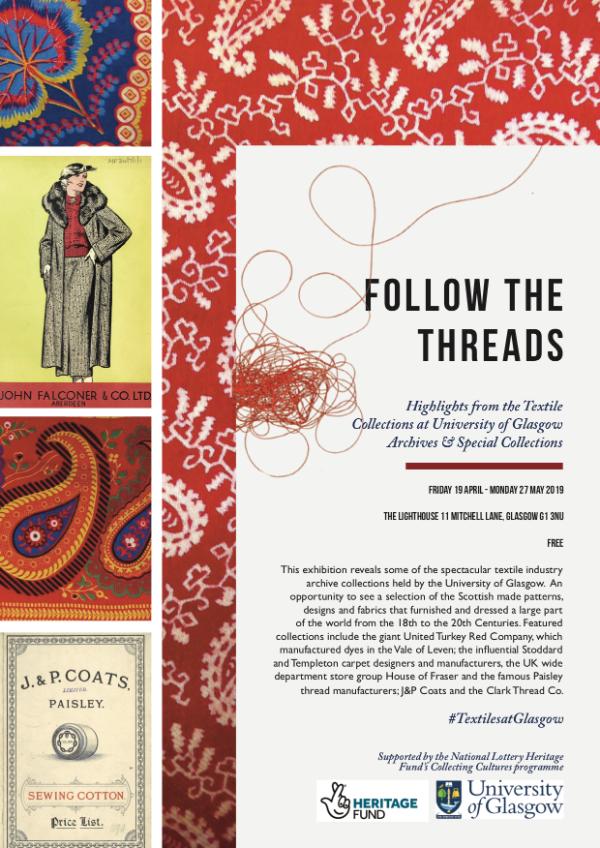 Follow the Threads
Follow the Threads: Highlights from the University of Glasgow's Textiles Archives ‌
We are pleased to annouce that from Friday 19 April to Monday 27 May 2019 an exhibition is being held at The Lighthouse in Glasgow as part of the Darning Scotland's Textile Collections project.
This exhibition offers the chance to uncover the spectacular textile industry archives held by the University of Glasgow. In the exhibition we explore four of our most significant collections. These represent a selection of the Scottish companies, which designed, manufactured, traded and retailed the fabrics that furnished and dressed a large part of the world from the 18th to the 20th Centuries:
Dyes: the United Turkey Red Company, which manufactured dyes in the Vale of Leven
Thread: the famous Paisley thread manufacturers; J&P Coats and Clark & Co.
Carpets: the influential James Templeton & Co and A F Stoddard & Co Ltd. carpet designers and manufacturers
Retail: the UK-wide department store group, House of Fraser.
Through these four collections, we can explore the global connections of the Scottish textile industry, spanning across four centuries. We can follow the lifecycle of textiles, from their design, production, and manufacture, through their sale as raw materials, to their final use in fashion, furnishings, and as industrial textiles.
You can view the exhibition booklet on issuu.
Within the Scottish Business Archive are the records of more than 130 Scottish companies that designed, manufactured, and traded their textile products across the globe during the years of Britain's greatest economic success.
Archives & Special Collections welcome researchers who wish to make use of these rich archives for academic research, student assignments, family and local history, personal interest and professional projects.
Supported by the National Lottery Heritage Fund's Collecting Cultures programme.
Media Coverage