More Information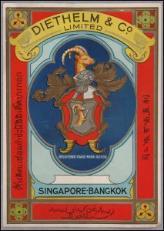 Image of a label used on the bales destined for Diethelm & Co Ltd for the Singapore and Bangkok markets from the United Turkey Red Co Ltd collection, n.d. (Ref: UGD 13/7a/8/3. Copyright reserved.)
Darning Scotland's Textile Collections
Darning Scotland's Textile Collections: recording, identifying and expanding knowledge about Scotland's textile heritages is a national lottery heritage fund project that focuses on the archival and material heritage of Scotland's textile industry.‌
In 2014 the National Lottery Heritage Fund awarded £91,800 from its Collecting Cultures initiative to enable Archives and Special Collections to further develop its textile collections over the course of a 5 year project. Find out more about the project here.
The textile collections held by the University of Glasgow provide evidence of Scotland's rich and diverse textile heritage, from weaving and sewing in the home, to full scale mechanized factory textile production. The resources held shed light on the entire lifecycle of textiles; from their design, production and manufacture, through their sale as a raw material, to their use in fashion, furnishings, theatre costume and as industrial textiles.
Acquisitions
Part of the Darning Scotland's Textile Collections project will identify strategic gaps and opportunities for extending our collections through acquisition. We are particularly interested in the business records of textile related businesses and have been monitoring auction sales and investigating potential Scottish collections. If you know of relevant collections or items then please get in touch via the Duty Archivist by email: archives@glasgow.ac.uk
Items acquired to date are:

Engagement
Claire McDade was appointed as project officer in March 2018 to develop and deliver an engagement plan. The project aims to deliver a programme of activities including exhibitions, seminars and interpretative resources to promote engagement with collections, record and share knowledge of the collections and industry, and learn about the Scottish textile industry.
The programme of events so far includes: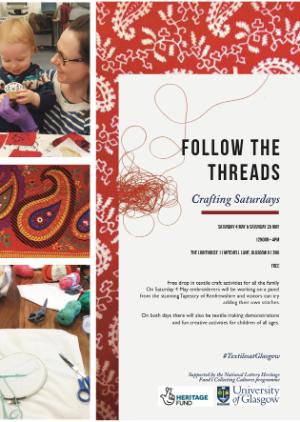 More Information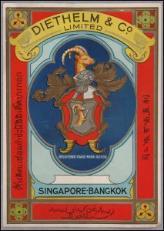 Image of a label used on the bales destined for Diethelm & Co Ltd for the Singapore and Bangkok markets from the United Turkey Red Co Ltd collection, n.d. (Ref: UGD 13/7a/8/3. Copyright reserved.)