The Stevenson Building
The Stevenson Building
As you enter Oakfield Avenue on your right sits the Rankine Building which houses Electronic & Electrical and Civil Engineering
Further down also on your right is our sports centre, the Stevenson Building (known more affectionately by students as 'The Stevie'), which underwent a £10m refurbishment and extension in 2015.
Our sports facilities include a gym, cardio suite, conditioning and strength suite, two squash courts, a 25m swimming pool, sauna, steam room and over 80 exercise classes every week. Membership is free for students staying in University Accommodation and there are around 50 sports clubs to join.
The Garscube campus (where our School of Veterinary Medicine is located), has its own sports centre with more facilities and pitches which many of the Sports Clubs make use of, offering team transport to and from the Garscube campus.
GUSA (Glasgow University Sports Association) is another of our student-led bodies who manage the university sports clubs. UofG Sports Teams are open to all skill levels from beginners level to competitive and teams regularly play in competitions across the UK.
In addition to Sports Clubs & Societies, there are more than 300 other SRC affliated clubs and societies for students to be a part of - these are exhibited during Freshers' Week in the quads of the Main Building. You can explore our current Clubs and Societies here.
School of Education
If you are interested in studying Primary/Secondary Education you can also see our School of Education at the St. Andrews Building which is just off the main campus.
To visit the St.Andrews Building: turn right from Oakfield Avenue and continue past the traffic lights, continue down Gibson street and the St.Andrews Building is on the right after the curve in the road.
St Andrew's Building was officially opened in 2003 by Deputy First Minister, Jim Wallace, to house The School of Education, which includes teacher education as well as a centre for adult and lifelong learning and the Scottish Centre for Research in Education (SCRE)
The St. Andrew's building is well equipped with teaching rooms, meeting rooms, lecture theatre, gym hall, music and drama studios and science and IT labs.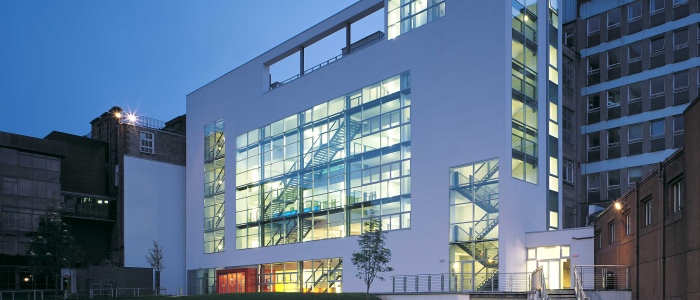 To Continue from The Stevenson Building: Turn right down Gibson Street and right on University Avenue. Stop outside the Glasgow University Union which is on the right.