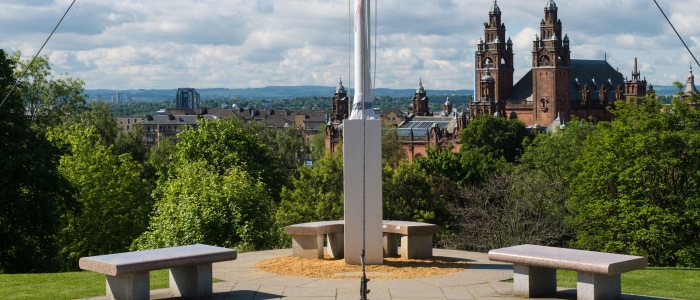 The South Front/ Flagpole
The University Flagpole offers elevated views of the city. From here you can admire two of Glasgow's most popular tourist attractions, Kelvingrove Park and the landmark Kelvingrove Art Gallery & Museum. Glasgow is Gaelic for 'Dear Green Place' and has over 90 parks and formal gardens, with the Kelvingrove being the most iconic.
Just to the right of the Kelvingrove Museum you will also see the stunning architecture of the newly redeveloped Kelvin Hall, a partnership between the University, the Hunterian Museum, the National Library of Scotland, Glasgow Life and the City of Glasgow Council. Kelvin Hall opened as an exhibition venue in 1927 (one of the largest exhibition centres in Britain) and is now a mixed-use arts and sports venue.
Further away to the left of the Kelvingrove you can also admire the striking architecture of the Scottish Event Campus (SEC), the Clyde Auditorium (known locally as the Armadillo) and the OVO Hydro Arena on the waterfront of the River Clyde.
A 2008 UNESCO city of music (the UK's first City to earn the title), Glasgow has over 130 live music events a week. Some would say that music is the beating heart of the city which you can see through the array of music venues throughout the city (including the QMU on our own campus which has welcomed bands that have gone on to be world famous include Queen, The Smiths, Nirvana, Red Hot Chilli Peppers, Biffy Clyro, and Coldplay to name a few!)
Glasgow also hosted the COP26 Climate Conference in November 2021, held at the SEC. Students and staff at the University were involved with volunteering opportunities open to students and smaller events being held at the university. The University is aiming to be carbon neutral by 2030 as is Glasgow as a city.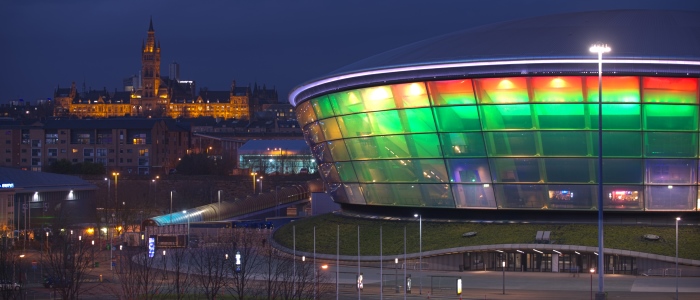 Behind you, is the south face of the Gilbert Scott Building. The Bell Tower, which stands at 278 feet high, dominates the Glasgow skyline as one of Glasgow's most notable landmarks. It was originally intended to be a clock tower before its height made this plan unfeasible.
Above the main doorway, a plaque carries the University's badge and motto, Via, Veritas, Vita (The way, the truth, the life)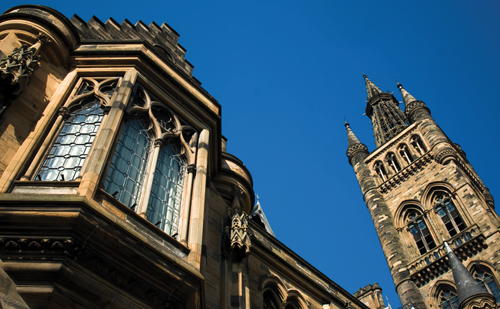 To Continue: While facing the bell tower make your way around the Gilbert Scott building to your left, go down the steps and through the gate on your right - for accessibility you can follow the road to the left to avoid the steps.