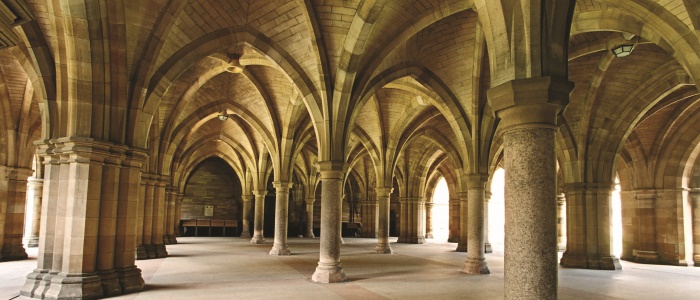 The Cloisters
The Cloisters
The Cloisters (also known as the Undercroft), which connect the East and West Quadrangles, have appeared in many films and TV shows including Outlaw King, Cloud Atlas and Outlander.
With their fluted columns and transverse ribbed vault, these impressive archways are an iconic part of the University where students can pass through or take some time out to enjoy the beautiful surroundings.
Directly above the cloisters is the Bute Hall (accessed by the staircase behind you), where graduation ceremonies take place. Students may also have lectures and sit exams there.
Many University events open to students also take place in the Bute Hall including; talks from academics, business leaders, politicians, authors, and other public figures from across the world and Alumni events such as the annual Christmas Dinner.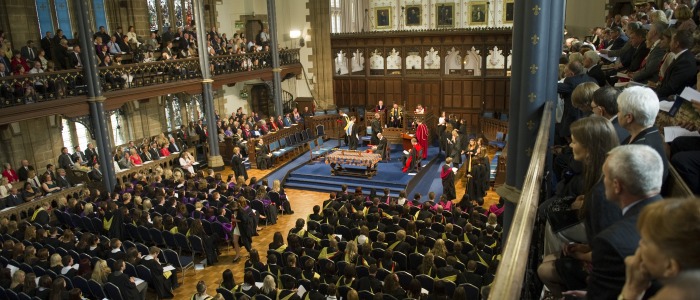 You can also reach The Hunterian Museum which sits opposite Bute Hall via this staircase. The Hunterian Museum is Scotland's oldest public museum and home to one of the largest collections in the country. It was founded in 1807 by money and collections donated by William Hunter, one of our most famous alumni and a leading anatomist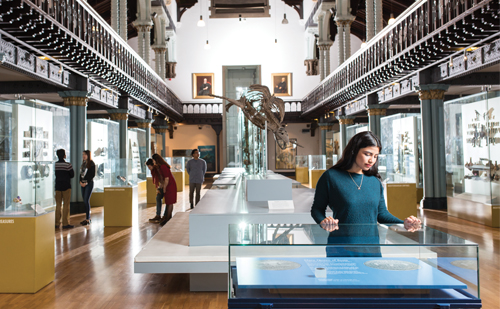 The Impressive collections include scientific instruments used by James Watt, Joseph Lister and Lord Kelvin, outstanding Roman artifacts from the Antonine Wall, major natural and life sciences holdings and Hunter's extensive anatomical teaching collection.

Find out more about The Hunterian Museum, which is open to the public and free to visit.
To Continue: From the Cloisters, head back into either the East or West Quadrangle and exit to the south front of the University via one of the archways. Once on the south front make your way to the flagpole.