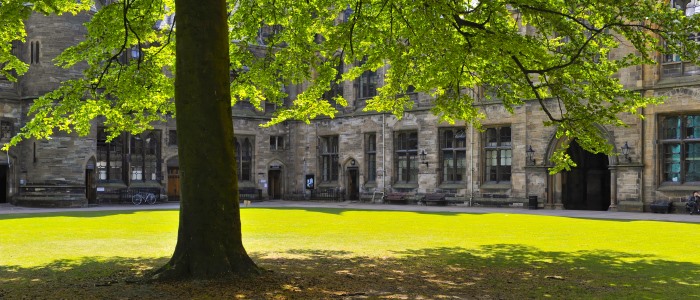 The East and West Quadrangles
The East and West Quadrangles (Quads)
At the top of the stairs, you will emerge into the beautiful West Quad.
The East and West Quadrangles are two of the most popular and picturesque parts of our campus, and host our graduation day celebrations, including a procession around the East Quad (pictured above) led by a kilted piper.
It is traditionally thought to be bad luck for students to walk on the grass before they graduate, so once they become graduates they take full advantage of the freedom!
In the West Quad:
On the Right hand side of the West Quad you will see the University Memorial Chapel - this was a later addition, designed by Sir John James Burnet and constructed between 1914 and 1929. The chapel commemorates and honours students and staff who died in the First World War and the plaque was later updated to include those who perished in the Second World War.
The Chapel is inter-faith and can be used by all students - UofG Graduates can also get married here!
The West Quad also houses the triple-accredited Adam Smith Business School where Accounting & Finance, Business & Management and Economics are taught.
In the East Quad:
Along the northern side run Hunter Halls which are used as a large multi-functional teaching and examination space.
You may also notice access to the University Concert Hall which is used by individual students, music societies and the university orchestra for practice space.
Geography is also taught here and as you walk around the quad you will see the names of other academic subjects.
To Continue: Make your way to the central pillared area between the two Quads, The Cloisers