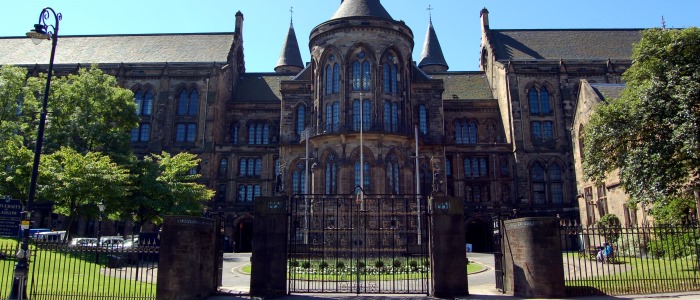 The Gilbert Scott Building
The Gilbert Scott Building (Main Building)
Perhaps one of the most striking buildings in the city is the iconic Gilbert Scott Building, named after its architect Sir George Gilbert Scott, a leading figure in the Gothic Revival movement who designed many of the University buildings in the late 19th century.
Sir George unfortunately died before he could see the building completed but his son, John Oldrid Scott, a famous architect in his own right, completed the building in 1891. The curved windows house our concert hall, where musicians perform at weekly lunchtime concerts.
The Gilbert Scott Building is truly multi-purpose space and is used for teaching, office-space, examinations, university events and most importantly - graduations. In fact, for students at the University of Glasgow their university experience starts and ends here: as the location of the University Principal's Freshers Address and Freshers' Fairs during Freshers' Week and as the backdrop to their graduation ceremony.
To Continue: Walk through the archway to the right-hand side of the curved windows of the Gilbert Scott Building (as pictured). Climb the stairs, or take the lift on your right hand side up to level 2.