Create interdisciplinary centre
Report recommendation: Creation of an interdisciplinary centre for the study of historical slavery and its legacies, including modern slavery and trafficking. This centre would combine scholarly research and teaching with public humanities, increasing knowledge and enhancing understanding of both historical and modern slavery, and the effects they have on and in modern day society. This would include collaboration with museums, schools and other public institutions. A long-term objective would be the creation and coordination of new courses, and the eventual development of programmes of study focused on slavery, trafficking and their effects.
Glasgow-Caribbean Centre for Development Research
The Glasgow-Caribbean Centre for Development Research (GCCDR) is a joint initiative between the University of Glasgow and The University of the West Indies, co-located in Glasgow and the Caribbean.
The Centre was established in 2019 when a historic Memorandum of Understanding (MoU) committing the two universities to work together was signed in Kingston, Jamaica on 31 July and in Glasgow on 23 August 2019.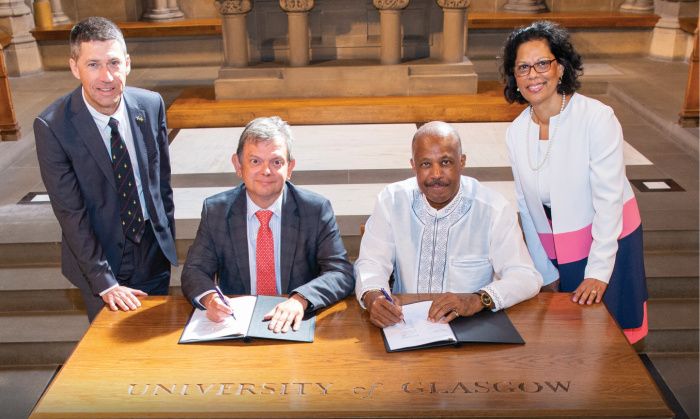 The University of Glasgow has committed to raising £20 million via the Centre for joint work on topics relevant to the Caribbean nations over the next 20 years. It is expected that the bulk of the funding will come from research grants and benefactions and that the centre will be self-supporting.
The aims of the GCCDR are to:
Facilitate research work
Coordinate academic collaborations with other universities
Host events and activities
Stimulate public awareness about the history of slavery and its impact around the world.
The impetus for this collaborative centre emerged from both The University of the West Indies' central role in the international campaign for reparations for slavery and the University of Glasgow's research into its own role in profiting from the transatlantic slave trade and slavery.
Visit Glasgow-Caribbean Centre for Development Research for updates on the activity of the Centre.