Impact in our Schools and Reseach Centre
Lasting Impact
Across the College of Science & Engineering, our long-term national and international partnerships have supported major cross-disciplinary research projects delivering economic, environmental and health impact. Our relationships across industry and business, governmental and non-governmental organisations and agencies have delivered new and sustainable change through targeted investment and a change in research culture. A culture of knowledge exchange, entrepreneurship and impact amongst our staff and students have, and continue to change lives across the UK and beyond.
Here you can read about some of the recent impacts enabled by research undertaken in the College of Science & Engineering.
Revolutionising industrial syntheses of key chemical intermediates using heterogenous catalysis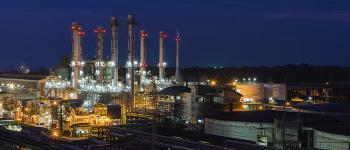 Strategic long-term research collaborations by UofG's Prof David Lennon have transformed the industrial-scale heterogenous catalysis of a number of key chemical intermediates, through the School of Chemistry's Chemical Process Fundamentals Laboratory (CPFL). The CPFL was completed in 2012, as a joint venture with two industrial partners: Syngenta and Huntsman Polyurethanes, and provides the academic researchers with the capability to investigate a range of industrially relevant chemical reactions.

For Huntsman Polyurethanes, UofG research has developed a new reaction model that comprehensively describes phosgene synthesis catalysis over an activated carbon catalyst. This knowledge has allowed continued improvements in plant operational practice to improve the feedstream management in the phosgene synthesis process and refine their catalyst activation and heat recovery strategies across their Rotterdam (Netherlands), Caojing (China) and Geismar (USA) manufacturing facilities. The open-source publication of research outputs from the UofG/Huntsman collaboration has restricted competing companies from patenting large blocks of process operations with direct connections to Huntsman's phosgene synthesis operations.
Working in collaboration with Syngenta, Prof Lennon's team at the CPFL have helped to secure the viability of a UK based heterogeneously catalysed large-scale chemical manufacturing process. They have retro-engineered of the original catalyst formulation and function and defined of a new catalyst specification.  Via pre-trialling at the CPFL they have enabled implementation of a replacement catalyst at the plant and optimised of catalyst activation procedures that lead to improved performance; conversions, catalyst lifetime and productivity. They have developed a kinetic model that includes a deactivation pathway that can correlate catalyst lifetime/performance and product yields as a function of time-on-stream. Together this academic/industrial partnership has enabled Syngenta to up-skill their in-house scientific capability, and has underpinned the security of supply of a major active ingredient in the production of a leading Syngenta herbicide.
Increased scalability of Erlang for improved telecommunications and internet server capability
Erlang is an open-source specialist programming language governing >90% of internet traffic and ~50% of landline phone calls globally. Prof Trinder and Dr Chechina at UofG identified fundamental issues which constrained Erlang's performance on multiple cores (processors) and hosts (machines), i.e. its scalability. Trinder initiated, assembled, and led an international academic/industrial consortium to address these issues. UofG research designed, developed, and evaluated better language-level scalability for Erlang, creating the Scalable Distributed (SD) Erlang libraries.
Technological innovations emerging from UofG and through the RELEASE project delivered impacts on commerce and economy through the enhanced scalability of Erlang. They have enabled Erlang to deliver fault-tolerant, scalable programmes (by organisations including Ericsson, WhatsApp and NHS Digital) for tens of thousands of applications in areas such as fintech, security, blockchain and Internet of Things.
Origami diagnostic tests enable rapid, low-cost diagnosis of infectious diseases in low- and middle-income countries
Prof Jonathan Cooper, Dr Julien Reboud
Infectious diseases are the leading cause of mortality amongst people in low- and middle- income countries (LMICs). High disease mortality rates are often linked to prohibitive cost and resource obstacles to diagnosis. Our researchers have developed a unique paper-microfluidic diagnostic platform (manufactured by UK SME, Epigem) that uniquely uses origami-folding lateral flow to bring rapid and accurate molecular testing to low-resource under-served rural areas in Uganda and beyond. The device enables DNA analysis, which is normally performed in a laboratory, to be carried out in rural under-served communities more rapidly and accurately than the current gold- standard field-based methods.
Both healthcare and policy have changed in Uganda as a result of the devices being used to detect malaria and schistosomiasis, with economic and social impacts for stakeholders/partners. In addition, this project is contributing to innovation and entrepreneurial activity in the design and delivery of new diagnostic products and services thorough our partners in the Ugandan Industrial Research Institute (UIRI), a centre of excellence for Industrial Research in the East African Community.
Forensic age determinations aid police decisions on criminal investigations and prosecutions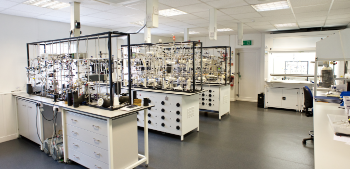 The UofG Radiocarbon Laboratory has developed world-leading analytical capability to provide year of birth and/or death using radiocarbon analysis of bone and teeth, together with isotopic analyses to aid identification of geographic origins and unusual diets. Since 2014, they have delivered critical data on >280 cases of unidentified human remains for forensic investigations throughout the UK and internationally. This includes demonstrating that child remains found at a number of former Mother & Baby Home sites in the Republic of Ireland dated from the 1920s–1960s. On 3 March 2017, the Mother and Baby Homes Commission of Investigation in Ireland (MBHCOI) announced completion of their test excavation of the Tuam site, stating that
"Radiocarbon dating was essential in linking the remains found in Tuam to the Bon Secours Mother & Baby Home."
This public acknowledgement had a profound effect on some survivors as they documented in press reports and interviews in other media. It particularly vindicated the work of Catherine Corless for whom the dating evidence
"… was the final proof that those remains were not from famine times, as I had been trying to prove for so long".
Critical age data has also been provided on animal remains in wildlife criminal cases, where it has facilitated police investigative decision-making and criminal convictions, reduce police time and financial expenditure, and alleviate emotional trauma for victims' families by providing vital information needed for closure.
Shaping risk management, adaptation and resilience policy and practice related to coastal erosion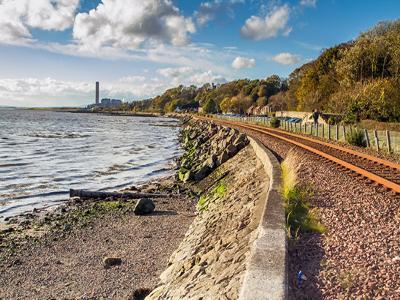 In Scotland alone, 19% (3,802km) of 20,000km of coastline is increasingly vulnerable to erosion as sea levels rise, negatively impacting the coast and its assets and communities and putting at risk more than 9,000 buildings, 500km of roads, 300km of water supply lines, 60km of rail track, and vital airport runways currently protected by natural defences (e.g. beaches/dunes).
UofG research produced internationally recognised tools, guidance and evidence on coastal erosion for Scottish Government and its agencies. This included the award-winning DynamicCoast, that shows coastal erosion has risen by 39% since the 1970s, with 20% of Scotland's coastal homes (estimated value £524m) now at risk. The Scottish Government, its agencies, and businesses use this research to design and implement policies that address coastal erosion, assess risk and achieve their statutory flood, erosion, climate change and adaptation obligations. These adaptation plans, climate-resilient planning and marine licensing decisions have improved the resilience of Scotland's coastal communities and assets. In 2020 DynamicCoast was acknowledged by the Scottish Government as their stimulus for £12m investment in new central funding for Coastal Change Adaptation.
Improving air quality in Scotland's cities using statistical modelling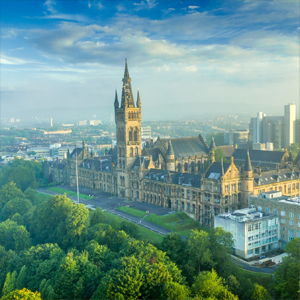 Poor air quality has profound negative impact on human health, as long-term exposure to air pollution can cause chronic conditions such as cardiovascular and respiratory diseases as well as lung cancer, leading to reduced life expectancy.
UofG statistical research led by Prof Marian Scott, has developed a statistical emulator for the urban air quality model (ADMS), enabling the Scottish Environment Protection Agency to quantify the compliance failure risk to air quality regulations under different scenarios. UofG's emulator and statistical modelling informed the design and development of both the Scottish Government's National Modelling Framework and the evaluation of low emission zones (LEZ) in Scottish cities, the first of which came into effect in Glasgow in December 2018.
Statistical modelling led by UofG's Prof Duncan Lee and Dr Craig Anderson have enabled accurate quantification of the health impacts of the different air pollutants in Scotland and provided key insights in terms of modelling and understanding of how implementation of the LEZs would impact public health.
Translating the significance of gravitational wave research for a global audience
September 2015 saw the first-ever direct detection of gravitational waves, vindicating Einstein's century-old Theory of Relativity and opening an entirely new window on the universe. The significance of the discovery could have been inaccessible to most non-scientists. However, UofG physicists in the Institute for Gravitational Research, who developed the thread-like mirror suspensions critical to the first detection, have embedded public engagement in their research practice for many years.
Since August 2013, IGR researchers have supported the delivery of ~3,000 public events (in 27 countries) including: multiple TEDx talks and webinars; exhibits and keynote talks including the Royal Society Summer Science Exhibition, London and the USA National Science & Engineering Festival [5.. Prof Hendry alone has visited >70 schools and 18 Science Festivals (including European Astrofest, Cheltenham, Glasgow and Oman Science Festivals, India National Science Day, NewScientist Live, Edinburgh International Science and Book Festivals).
Prof Hendry's ongoing leadership role in the global communication of gravitational wave discoveries, on behalf of a thousand-strong international team, has resulted in an international, sustained and wide-reaching stimulation of public interest and understanding in the new field of gravitational wave astronomy. Prof Hendry has led the provision of LIGO Science Summaries since August 2013 — a key component of LIGO's public outreach to journalists and non-specialists. These Science Summaries are short, non-technical articles written to accompany every [LIGO] collaboration publication and are published in 21 languages and have increased public understanding of gravitational waves directly assisting journalists in their communications.