Directors
Rachel Opitz
Neil McDonnell
Iain Findlay-Walsh
Tim Duguid (from Spring 2023)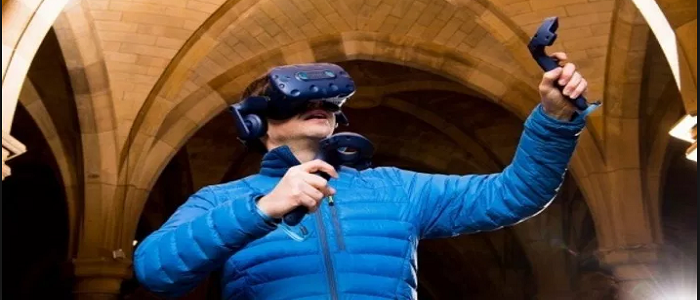 IMMERSIVE EXPERIENCES(IELAB) MISSION STATEMENT
To grow a community at the University of Glasgow, made up of researchers, artists, professionals and students interested in work at the intersection of arts and humanities, virtual and augmented reality, and related technologies.
In pursuit of this mission we circulate a regular IELab newsletter containing details of funding opportunities, events and technological developments that are relevant to this community. We also host the IELab event series of lectures, workshops and demos. See for instance our Extended Reality and Psychology webinar series, held in June 2020.
Join IELab - 2022 call for new members
We are looking to grow the IELab community, and we are particularly keen to welcome new staff and research students arriving at Glasgow in 2022. No matter your field or discipline, if you are interested in immersive technologies and want to get together with researchers working in this space, please join us!
If you'd like to become a member of the new Immersive Experiences Lab at Glasgow please send an email to Rachel Opitz stating, "I would like to join the Immersive Experiences ArtsLab at Glasgow", To receive regular, approximately monthly, email updates on news and events relevant to the community.
Directors
Rachel Opitz
Neil McDonnell
Iain Findlay-Walsh
Tim Duguid (from Spring 2023)