Links between UofG and Ireland celebrated
Issued: Tue, 05 Dec 2017 07:57:00 GMT
There have always been strong links between the University of Glasgow and Ireland.
And these connections were celebrated at an Irish student event held at the University by the Consulate General of Ireland in Scotland on 28 November.
Irish students and staff celebrated these longstanding friendships and got to know Consul General Mark Hanniffy and Vice Consul Anne-Marie Flynn.
Music on the night was provided by two musicians from the Scottish Region of Comhaltas Ceoltóirí Éireann (Society of the Musicians of Ireland). Comhaltas is the largest group involved in the preservation and promotion of Irish traditional music.
Dr Mark Hanniffy said: "Irish students have been graduating from the University of Glasgow since 1695. Today our friendship and connections continue and we know that the Irish students at the University of Glasgow make up the largest single group from any European Union country outside of Britain. There are also strong research links between the University of Glasgow and universities across Ireland.
"We are keen to encourage Irish students and staff to keep in touch with us in the Consulate and know we are here to support them in Scotland. We hope that people can follow us on Twitter and Facebook to find out more about what we do and about events and initiatives in both Edinburgh and Glasgow that may be of interest to them."
Professor Roibeard Ó Maolalaigh, Vice-Principal and Head of the College of Arts, said: "I am from Dublin and in 1988 I came to Scotland for a year and am still here today. The Scots and Irish have a great deal in common – a love of music, storytelling and language.
"It is hardly surprising then to find that these strong connections are replicated in the ties between the University and Ireland.
"Today we have many Irish staff and students studying in Glasgow. They follow in the footsteps of Irish graduates who have left Glasgow to enjoy careers as teachers, engineers, researches and doctors amongst others."
The University of Glasgow's first known Irish graduate was Gulielmus Gray, who graduated in Arts, in 1695. The first woman to be awarded a Doctor of Medicine degree at the University of Glasgow was Antrim-born Dame Anne Louise McIIroy, who later became the first woman medical professor in the UK.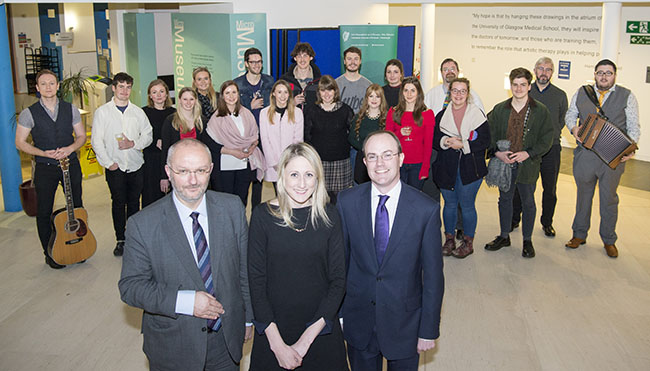 ---