Whistler exhibition to tour US and Japan after successful UK debut
Issued: Fri, 10 Jan 2014 10:00:00 GMT
An exhibition of the works of James McNeill Whistler is about to embark on a tour of the US and Japan after a successful debut in the UK closes this Sunday (12 January).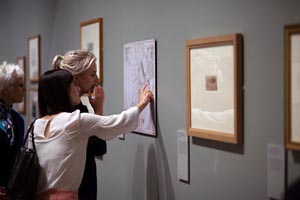 More than 30,000 people have visited 'An American in London: Whistler and the Thames', co-curated by two art historians from the University of Glasgow, at the Dulwich Picture Gallery since it opened on 16 October last year making it one of the gallery's most visited exhibitions.
The exhibition will travel to the Addison Gallery of American Art in Andover, Massachusetts (1 February - 13 April 2014) and the Freer Gallery of Art, Washington DC (2 May - 14 August 2014). After this, selected works will join a major Whistler retrospective, organised by NHK, to be shown at the National Museum of Modern Art in Kyoto (13 September – 16 November 2014) and the Yokohama Museum of Art (6 December 2014 – 1 March 2015).
Both exhibitions draw heavily on the University's outstanding Whistler Collection of oils, etchings, lithographs and watercolours. The Hunterian is the major lender to both, with 19 works of art to the Dulwich exhibition and over 50 to Japan.
The British public still has the opportunity to view the largest digitised collection of Whistler's etchings through the University of Glasgow's 'Whistler Etchings Project'. This is the culmination of a major academic research project to uncover many previously unknown etchings, plus fresh information on titles, dates, subjects and sitters, technique, and the 19th century art market.

Margaret MacDonald, co-curator of the 'Whistler and the Thames' exhibition and Professor of History of Art at the University of Glasgow, said: "We are delighted at the success of the show which I believe was one of the most popular ever held at the Dulwich Picture Gallery. Whistler's work resonates, not only with people in the UK, but around the world, and we are delighted that his work will be exhibited in the US and Japan over the coming months.
"The Whistler Etchings Project is a unique and fantastic resource that collects prints in public and important private collections and makes them available for free to anyone around the world and is a great introduction to Whistler for anyone who missed the UK exhibition."
Ian Dejardin, Director of the Dulwich Picture Gallery, said: "Whistler and the Thames has been a revelation to many people, who may have expected the beauty of his famous paintings but have been stunned at the technical virtuosity of his prints.
"The public has responded with enthusiasm and a twitter-storm of approval, resulting in one of our busiest exhibitions ever, with many discovering for the first time the artist's profound love affair with London and its river."
Prof MacDonald and Dr De Montford will be academic supervisors for the shows in the National Museum of Modern Art in Kyoto and the Yokohama Museum of Art and will be curated by University of Glasgow graduate Dr Ayako Ono.
Find out more
---
Media enquiries: nick.wade@glasgow.ac.uk / +44(0)141 330 7126