How the wild men of the Highlands were tamed
Issued: Mon, 15 Apr 2013 10:04:00 BST
Researchers have shed light on what tamed the violent, untamed alcohol-fuelled 'wild men' of the Scottish Highlands and heralded the dawn of a new period of 'Highland Enlightenment'.
It has been discovered that between 1760 and 1840 a more modern model of disciplined masculinity subsumed a previous Highland culture that was lawless, violent and intoxicated. This transition led to a reduction in the levels of inter-personal violence between Highland men as traditional clan notions of retribution through violence phased out and replaced.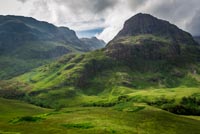 These developments represented a significant 'Highland Enlightenment', as the perceived masculine virtues of interpersonal violence were replaced by a culture of civility and restraint between men. Over time, in effect, fists and weapons were replaced with words.
Lynn Abrams, Professor of Gender History at the University of Glasgow, said: "This is a very interesting point in the development of Highland culture; by 1750 literacy rates in the rest of Scotland were among the highest in Europe, and great Scottish thinkers like Adam Smith and David Hume stood at the forefront of the great Age of Enlightenment that had swept through Europe over the course of the previous century.
"However, innovations that had paved the way for industrial and social modernization had not yet gained a foothold in the Scottish Highlands and there still existed an archaic and violent 'code of manhood' whereby men, likely to be intoxicated and with few rules to follow, affirmed their social status, settled disputes and restored family honour through violence."
"Upheavals in the post-Jacobite era along with the social and economic 'improvement' were the cause of considerable social breakdown in traditional clan allegiances. Coupled with the civilizing effects of the Enlightenment, which offered a new model of disciplined masculinity underpinned by an effective legal system, a modern pattern of civility and restraint amongst the 'wild men' of the Highlands evolved."
Improvements to agricultural technologies, growing trading links with the British Empire and a boom in local industry brought money and increased employment opportunities into Highland towns such as Inverness; these islands of culture became the catalysts for a new Highland society.
The new professional classes that moved to these towns brought with them all the trappings of the new middle-class society that was evolving in the south. These included schools, banks and law courts, and it was around these that a new, fluid social hierarchy gradually formed.
Around 1840 it is thought that the Highland male had largely adopted the new model of manhood which adhered to the customs and social contracts of the new urban elite rather than the old clan systems.
---
For more information please contact Nick Wade in the University of Glasgow's Media Relations Office on 01413307126 or at nick.wade@glasgow.ac.uk.
Information for editors: