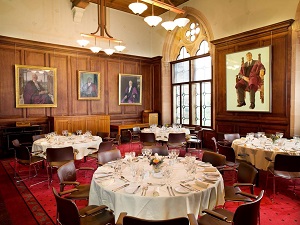 The Melville Room in the University of Glasgow Main Building
How to organise your reunion
Are you thinking about organising a reunion for your classmates, sports club or society?
The Alumni Engagement Team are on hand to help make your reunion a success! Contact us via alumni@glasgow.ac.uk.
Take a look at the handy guide below to get you started.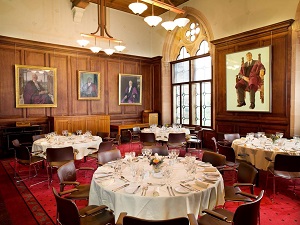 The Melville Room in the University of Glasgow Main Building
Find your classmates
Get in touch with the Alumni Engagement Team and we can help draft a list of your former classmates. Where we have up-to-date contact information for them, we can get in touch on your behalf and let them know you are planning a get together. For a larger event you might want to create a Reunion Committee to help you with the planning.
Book your venue
The University of Glasgow has lots of rooms and venues on campus that you can hire for your reunion. From evening receptions and dinners to casual lunches and drinks in your old student union, we can help you plan a reunion to suit your group and budget.
We can also arrange a Historic Tour of the Gilmorehill Campus, a tour of The Hunterian Museum, or a visit to your former School or Department. Let us know if you have ideas for other events or activities and we would love to help where we can.
If your group is planning a full weekend of celebrations, we can also share our recommendations for local restaurants and hotels.
Plan the cost
Once you know how much the event will cost per head you will need to gather everyone's payments. In some cases you will be able to pay individually on the day, other venues will require payment in advance. One of your classmates could act as 'Treasurer' and agree to take all the payments before the event and to pay the venue directly.
Promote your reunion
If you would like your reunion featured on the reunion notice webpages, send a brief description of your planned event to alumni@glasgow.ac.uk. Remember to include your class or club's name and year, as well as the dates, times and locations (if known) of the reunion and the contact details (telephone/email), for people to register their interest.
Send invitations
Once you have agreed on a date, time and venue for your reunion we can draft invitations and send them to your classmates on your behalf via email or post. The invite should include all the event details as well as the reunion organiser's contact details (telephone/email) for people to register their interest.
Take photographs
We love hearing the stories of your reunions and sharing them with the UofG alumni community on social media and on the alumni webpages. For tips on how to take great photos visit the reunion photography webpage.
Ensure that you let everyone in the photo know you are going to share it with the Alumni Engagement Team and that it will go on the alumni webpages and/or on social media, give everyone an opportunity to opt out of the photograph if they would prefer.
Request reunion packs
We can provide reunion welcome packs for your guests. These can include updates from the University of Glasgow, a UofG pin badge and archive materials from your time at Glasgow, such as old issues of the Glasgow Guardian and even copies of your past exam papers!
Keep in touch
Keep in touch and let us know how your reunion went! We'd love to share the highlights of your event, and a photo, on the Reunion Stories webpage.
Please include the club or subject year and name and the date and location of the reunion. You can include a photo if everyone in the image has agreed that it can be shared with us and put online. For more guidance on this please visit the reunion photography page.
Send your write-up and photo to alumni@glasgow.ac.uk.