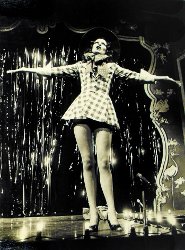 Adrienne Scullion
MA, PhD (Glasgow), FRSA, FRSE
James Arnott Professor of Drama
Adrienne leads the 'Pantomime in Scotland' research project.
She researches in the areas of Scottish theatre and drama from the eighteenth century to the present; theatre and drama for children; eighteenth- and nineteenth-century women playwrights; and, cultural policy, in particular in relation to Scotland and to cultural and national identity.
Amongst her early pantomime memories are visits to Glasgow's Citizens' Theatre to see the Giles Havergal/Myles Rudge pantomimes Mother Goose and Puss in Boots.
Recent publications
'Political theatre or heritage culture? Ane Satyre of the Thrie Estaitis in production', Literature and the Scottish Reformation. Edited by Crawford Gribben and David George Mullan. Aldershot: Ashgate, 2009, pp. 213-32.
'Playing the citizen: the citizenship debate and theatre for children and young people in contemporary Scotland', New Theatre Quarterly 96 (November 2008), pp. 379-93.
'Theatre work in Scotland', Working Life of the Scots: Craft and Service edited by Mark Mulhern, John Beech and Elaine Thompson, volume 7 (of 14) in the series Scottish Life and Society: A Compendium of Scottish Enthology. Edinburgh: Tuckwell Press/National Museums of Scotland/European Ethnological Research Centre, 2008, pp. 369-84.
'Devolution and drama: imagining the possible', The Edinburgh Companion to Contemporary Scottish Literature. Edited by Berthold Schoene. Edinburgh: Edinburgh University Press, 2007, pp. 68-77.