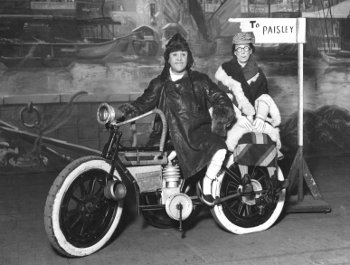 Dr Paul Maloney
BA Hons (Sussex), MPhil (Strathclyde), PhD (Glasgow)
Paul is the Research Fellow on the AHRC-funded project Pantomime in Scotland: 'Your other national theatre'. He previously worked as a stage director in opera with various national companies, before completing a part-time MPhil at Strathclyde University. Supported by an AHRC doctoral award, he has recently completed a PhD on the Britannia Music Hall and the development of urban popular entertainments. His responsibilities within the project include leading the oral history programme.
He is a contributor to the Oxford Dictionary of National Biography, the Biographical Dictionary of Scottish Women (2006) and to the online history of Glasgow, TheGlasgowStory.
Recent publications

'Entertainment and Popular Culture', and 'Theatre, Music Hall and Cinema', in Ian Brown, ed., Changing Identities, Ancient Roots: the history of West Dunbartonshire from earliest times (Edinburgh, Edinburgh University Press, 2006), pp. 142-181 and 203-218.
Scotland and the Music Hall, 1850-1914 (Manchester, Manchester University Press, 2003).
Compiler and editor, Scottish Opera: Der Ring des Nibelungen (Glasgow, Scottish Opera, 2003).
'Patriotism, Empire and the Glasgow Music Hall', Scotlands 5.1 (1998), 64-78.