Certificate in Counselling Skills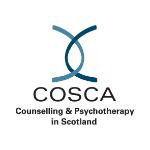 COSCA Certificate in Counselling Skills (40 CertHE Credits)
Counselling Skills
Counselling skills are useful for anyone who has a personal or professional interest in increasing their knowledge and experience of active listening through self-awareness and personal development.
These skills are beneficial to a wide spectrum of people and professions. Those working in voluntary organisations, teachers, care workers, police, religious organisations and many other professions use counselling skills to help carry out their various roles.
The next iteration of the COSCA Counselling Skills Course will begin on 21st September 2021. Classes will be held from 6-8pm on Tuesdays. The course runs over a period of 40 weeks in 4 x 10 week blocks. Block dates are as follows:
Block 1- 21st September 2021 -23rd November 2021.
Block 2- 11th January 2022-15th March 2022.
Block 3- 5th April 2022-7th June 2022.
Block 4- 28th June-30th August.
It is a requirement of the course that to pass students attend a minimum of 85% of the course.
It is a requirement of COSCA that whenever possible teaching should be delivered on a face-to-face basis. As such, all students enrolling should be prepared to attend face-to-face classes at The University of Glasgow Gilmorehill Campus for the duration of the course. In order to ensure social distancing, the class size is limited to 12 students for this iteration of the course. If face-to-face teaching cannot be offered at any point during the course due to government guidelines, the course will be delivered online via Zoom until such a time as face-to-face teaching can resume.
Course Overview
The COSCA (Counselling and Psychotherapy in Scotland) validated course aims to provide a general introduction to the skills of counselling.
The course requires that you progress through four connected and self-standing modules.
Course materials will be provided on commencement of each module.
You will be encouraged to develop an understanding of how counselling skills can be applied in both everyday situations as well as to areas such as relationships, stress, loss and bereavement.
The different theoretical models of counselling will be outlined. You will also examine issues of personal, professional and ethical conduct.
Course Credits
There are no formal examinations but rather on-going assessments.
Award of the Certificate depends on satisfactory completion of all four modules.
COSCA require that course members attend a minimum of 85% of teaching sessions.
The COSCA Certificate does not lead to a qualification to practice counselling but is considered by most institutions as a recognised and recommended pre-requisite for any person considering taking further study to become a counsellor/psychotherapist.
Many students find the process completing the Certificate to be a positive experience.
The coursework requirements have been amended to allow the COSCA Certificate to be accredited with 40 credits at SCQF Level 8. These 40 Credits can be used towards a Certificate in Higher Education.
Engagement with the Course
A major part of the course will be experiential in format e.g. practical exercises, including skills practice, skills observation and feedback. This aspect of the course requires students to draw from their own experiences.
The experienced tutors will encourage and support you to develop your own natural skills and personal qualities.
Those applying are encouraged to consider if they have experienced any major life events, which might make participation in an educational course of this nature inappropriate at this time, or if they have any ongoing personal issues which may be exacerbated by the participation in the experiential learning process.
Testimonials
"Both tutors and students alike are incredibly warm and supportive. The course can be challenging at times but the atmosphere created in the class allows you to explore these in a safe environment. I would thoroughly recommend this course and its tutors."
"Great course and met some great people. Be prepared for an emotional roller coaster and try to enjoy the ride!"
"I thought I was joining the course to 'improve' my listening skills. Instead I've been on a journey of self- discovery I learn more about myself in a few months than I thought possible. It's been surprising, challenging and enlightening and worth every minute I've spent here I'd recommend it to anyone."
"I came into this course looking for a change in career but left with so much more than that. I have grown and changed as a person more than I ever dreamed. So many new doors and paths have opened to me and I have gained the confidence to explore these."
Application Process
Applicants are not required to have formal academic qualifications.
English must be at an appropriate level. The list below provides an indication of the types of qualifications that would mean students are likely to be able to cope with the demands of the course.
•International English Language Testing System (IELTS) Academic module (not General Training): overall score 6.0, with no single element less than 5.5
Common equivalent English language qualifications:
•TOEFL:78; no sub-test less than 18
•CAE(Cambridge Certificate of Advanced English):Grade C •CPE(Cambridge Certificate of Proficiency in English):Grade C •PTE Academic(Pearson Test of English, Academic test): 54; no subtest less than 54 •UK school qualifications in English e.g. Intermediate 2, National 5 or preferably Higher in Scotland, (or GCSE in Northern Ireland, Wales and England)at B or better.
ESOL qualifications are not normally sufficient for entry unless you have H4X7 76 ESOL in Study related Contexts Higher Unit Specification SCQF: Level 6.
The University's Equal Opportunities policy can be found at: www.glasgow.ac.uk/services/humanresources/policies/a-g/equalitypolicy/.
Fees
The current fee is £1480.
The Certificate in Counselling Skills is accredited with 40 credits at SCQF Level 8 and as such may be Part-Time Fee Grant eligible (up to £428). Please set this up in plenty time before the course commences.
Visit www.saas.gov.uk to apply or to find out more information about eligibility.