What Our Students Say
Thinking of studying for an undergraduate degree in our School?
Have a read at what some of our former UG students had to say about their experiences here.
Duncan Henderson, Politics (Hons), 2022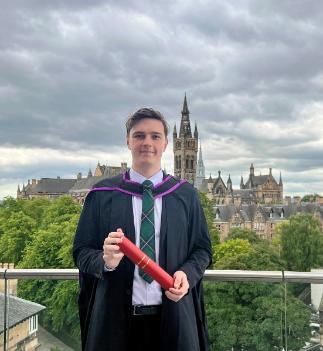 What was your programme of study?
I studied Politics, graduating with an MA (Social Sciences) (Honours) degree back in June 2022. I also used the flexibility of the social sciences degree to study a few Social and Public Policy and History modules during the honours years of my degree.
What did you enjoy most about your time at Glasgow? What were your highlights?
I really enjoyed my time at Glasgow, inside and outside the classroom!
I found my course really interesting and enjoyed learning more about politics in the UK and around the world. Having complete flexibility to pick which modules I studied in my honours years was great as it meant I could really focus on the areas I was most interested in and wanted to learn the most about.
Being elected SRC Assessor on Court in my final year was a highlight. I loved sitting on the University's governing body and raising issues at the highest level on behalf of students; as well as contributing to long-term University strategies and learning more about the wider higher education sector.
I look back most fondly at my time in the Glasgow University Union and the Dialectic Society. I met many friends and made a lot of memories in that building: going to many socials, studying with friends in its libraries, and speaking in its debates chamber 19 times. Charles Kennedy's remark that "the University gives you your degree, but the Union gives you your education" still holds true!
Can you tell us a bit about your role as Research Assistant at the Institute for Government? What are the type of duties you carry out, what's a typical day for you and what your favourite things about the role?
Absolutely! As a bit of background, the Institute for Government is a think tank working to make government more effective. We are based in London and provide impartial and evidence-based analysis, commentary, and recommendations about the key challenges facing the government and the country.
I work on the Institute's devolution team, looking at sub-national governance in England and the three devolved administrations in Scotland, Wales, and Northern Ireland. One of the things I enjoy about it is how much variety there is – I've analysed data for our research, written and updated explainers (c. 1,000 words about a topic) for our website, attended thought-provoking events, and even went to the Supreme Court to observe the hearings in the Scottish independence referendum case!
Alongside the variety, some of my favourite things have to be getting to work on nationally important issues, working with people who are experts on their topics, the opportunities to learn more and develop, as well as being able to see the London Eye and Parliament from my office windows!
How do you feel your time at university, including your degree and extra curricular activities such as your role as College Convenor, helped you to achieve your role and how is it continuing to help you in your job?
Alongside building my knowledge of British politics and policymaking, my degree also gave me a lot of useful transferable skills. Reading academic papers and picking out the key arguments was good preparation for finding the relevant points in government reports; working on my dissertation gave me experience of analysing and presenting data; and writing essays developed my ability to write in other formats as well.
I got involved in all sorts of extra-curricular activities because I enjoyed them, but they built up a lot of useful skills – working in a team; communicating my views to others; balancing that workload with my degree. Experiences such as being College Convenor, being on the Dialectic Society's Board of Management, and being part of the GUU's Libraries Committee gave me plenty to talk about in interviews and built-up skills I use every day at work.
Do you have any advice for SPS students who are considering a career in politics?
First, there's a lot more options out there than people might expect so it is worth exploring what you can do. I was asked all the time if I wanted to be a politician when I said I studied Politics, and while electoral politics is one option, it definitely isn't the only option if you want to work in politics. Think tanks, the civil service, charities, academia, and working in local government all have a politics/policy dimension and can be solid paths to pursue.
Second, get involved as much as possible while at university. It is a competitive field and extracurriculars are a great way to enjoy your time, build up skills that'll serve you well once you leave, and help you stand out during job applications. You'll probably never be in a place with so many options: 50+ sports clubs, 300+ societies for any and all interests, and four unions each with a different atmosphere and purpose. I got involved in representation and debating because that was what I enjoyed but most clubs and societies will develop useful skills, so get involved in something you're interested in and see where it takes you!
Anne Manuel, Politics & Sociology (Hons), 2018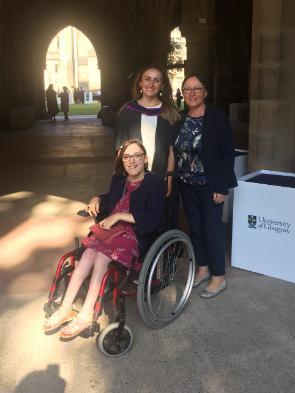 Anne with her Mum and sister
You graduated in 2018 with an undergraduate Honours degree in Politics and Sociology. What did you enjoy most about your time at Glasgow, in particular, your favourite parts of your degree? Do you have any highlights from your time here?
The first time I visited the University of Glasgow, I knew it was the university I wanted to study in. There was no doubt that Glasgow had the academic excellence and open-mindedness to be a university where I could thrive. The first two years studying politics were challenging in a good way: tutorials allowed me to sharpen my analysis and confront my opinions against those of others. My experience of the University was one of intellectual challenges and in-depth understanding of politics in the UK and around the world.
I still remember my classes on international relations which were rich and detailed. In War and Conflict, I became an expert in different war and peace analysis theories which gave me a better grasp of geopolitical issues - an advantage as I took the class when Donald Trump was elected. I also truly enjoyed the class on Global Environmental Politics and still use some of the knowledge from it for my own work now, such as at COP26. The class that resonated the most with me was the Feminist Politics class, which allowed me to feel more confident in my feminist analysis of certain geopolitical issues and of academic theories.
I wasn't always very keen on the extensive readings, 40-pages long PDF article which seemed endless, but I know that it taught me discipline, patience and resilience in the long-term.
Being part of student associations, like my two years at GUCFS, was a real highlight of my time at the University. It gave me a professional and challenging project, next to my studies, which made me more employable. I was extremely proud to be nominated for 'Oustanding Contribution to a Club or a Charity' by the SRC on my final year at University
Can you tell us about your current role in the French Embassy?
I currently work at the French Embassy where I lead on press and communication. On a day to day basis, my role is to expand the Embassy's network of British journalists to improve the coverage of my country in the day to day news. I also write a daily press review and respond to press requests from journalists. It can be anything from a quote on a specific issue all the way to interview requests.
As part of my job, I also work on communication projects which involve our social media channels. During the pandemic, I was the one responding to all the queries we would receive on Twitter and Facebook, which wasn't always easy to keep up with. I took part in nicer projects too: creating an Instagram filter for Bastille Day 2020, creating a podcast, improving our Instragram presence with collaborations, and communicating on the G7 summit and ministerial back in May and June.
As part of my role in the Embassy, I must support the press team of Ministries in France and of the Presidential Palace during bilateral or multilateral meetings which may take place in the UK. 2021 has been a busy year for me… between the G7 and COP26 we had a great amount of ministerial visits and presidential visits which required my full-time attention. From getting press coverage, to helping with the whole logistics of the visit (getting authorisation, access for journalists etc), visits from our French government are usually very full on!
How do you feel your degree in Politics and Sociology prepared you for working in Government Office? Do you have any advice for our students who would like a career in Government?
My degree gave me the ability to be thorough, diligent and competent in handling serious issues related to international relations. It also made me more critical, so that I never take information at face-value.
If you have the opportunity to do internships in a government setting, then go for it! Nothing prepares you better than trying out the job itself. I would also say that networking is key: it's a small word, and a recommendation from someone may go a long way! It's also important to continue networking whilst in the job as it will help you refine your ideas and opinions - just like we used to do in our tutorials.
You also have to be ready for the administrative process - a government setting is not one of constant innovation and creation. But it is a work environment where you can thrive if you love to learn and to develop your inner critical judgment.
Ruth Boyle, Politics (Hons), 2013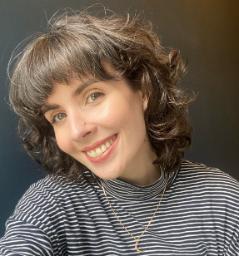 Why did you choose your programme?

I loved Modern Studies at school and had an interest in politics, so I wanted to expand my studies in that area. I was drawn to Glasgow because of the wide range of modules and topics that I'd be able to cover during the programme. People also spoke very highly of Politics at Glasgow, it's a well-respected degree. It seemed a great fit for me.
What did you enjoy most about your programme and your time at the University of Glasgow?

Over four years, I was able to expand my knowledge, skills and horizons. My studies included comparative politics, the history of political thought, feminist politics, British prime ministers, and human rights. It doesn't get much broader than that! Throughout my studies, the quality of lecturers and tutors was consistently high and I felt I was able to access support and feedback, as required.

The wider experience of attending University is also important. I loved having the opportunity to live in Glasgow (I've never left!) because it's an incredible city. I enjoyed meeting lots of new people and making new friends – the experience helped me to grow in confidence.
Tell us a bit about your current role?

I work as the Policy and Parliamentary Manager for the charity, Close the Gap. We are Scotland's expert policy advocacy organisation working on women's labour market equality. My role requires me to develop research, policy papers, briefings and consultation responses. I conduct quantitative research including regular analyses of labour market data to better understand women's employment. I also lead on Close the Gap's parliamentary engagement, which sees me work with elected members, parliamentary committees and political parties to encourage and enable action on the gender pay gap. I love my job, it's exactly what I hoped I'd be doing!
How do you feel your degree helped you achieve your current role?

Completing my politics degree at the University of Glasgow enabled me to develop the writing and analytical skills which are vital to my current role. Being able to write in a variety of styles, to conduct research and analyse data are all essential skills for my job and my degree really helped me to hone those skills. The programme also allowed me to develop a good understanding of the Scottish political system which provides a strong basis for engaging with parliamentarians and political parties. My studies also allowed me to place my research and analysis in a wider social, economic and political context which is really useful.
Do you have any advice for our current students who would like to move into a similar role?

I knew I had a particular interest in gender equality and selected the modules which enabled me to explore this interest in more detail. If there's a particular angle that you wish to explore, take every opportunity to learn about it and apply different perspectives to it. Showing employers that you've carved out the space to explore a particular topic of interest to you demonstrates commitment and can give you a running-start on adapting your learning for the workplace.

After graduation, you might have a certain cause or organisation in mind for where you want to work but it can be difficult to make that transition immediately. I worked in a couple of policy and parliamentary roles in the public and third sectors before joining Close the Gap, which really helped me to develop my skills and familiarise myself with the demands of the workplace. Sometimes getting the job you really want can take time, and it's important not to get frustrated with yourself.

Also, I know from personal experience that some people view quantitative research methods modules as really bleak, but don't avoid them at all costs. I promise that they end up being useful!